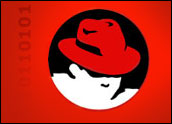 Linux software maker Red Hat saw its stock move briskly higher Friday as investors digested a strong earnings performance and an optimistic outlook.
The open source software developer posted record software license sales and issued guidance that topped Wall Street estimates for 2009.
For its fourth quarter, Red Hat saw revenue of $141.5 million, a 27 percent increase over the year before and slightly better than the $141.1 million analysts had been expecting. Profit came in at $22 million, up 7 percent from the same quarter last year.
Continued Growth Expected
The outlook was even more robust, with the Raleigh, N.C.-based company projecting sales will grow as much as 30 percent to $665 million to $680 million for the year, with earnings per share of 78 to 82 cents. Analysts had posted a consensus forecast for $636.9 million for fiscal 2009.
"We closed over $200 million in bookings, a new landmark for us," said Chief Financial Officer Charles Peters. The company did not experience the spate of cancellations that fellow software vendor Oracle said dented its results for the quarter, he added.
Red Hat shares rose nearly 7 percent in morning trading Friday to $18.70, though the stock remains well below its 52-week high of $25.25.
Paying to Play
Red Hat remains well-positioned to thrive even in a weakening economy because its products cost less than proprietary alternatives, it said. The company also believes its acquisition of JBoss is poised to pay off, and it recently announced that JBoss applications have been downloaded 20 million times, a number that represents an enormous potential audience for paid support services.
Red Hat's decision to invest in marketing and sales infrastructure is paying dividends and will continue to boost results going forward, Peters noted.
"We are realizing returns on the increased investment which we have made over the past year in engineering, sales and marketing, combined with solid execution," he said.
Those improvements may help Red Hat sell more services to existing companies, since much of the investment was aimed at automating the marketing process, WR Hambrecht analyst Robert Stimson told LinuxInsider.
Noting that both services, which saw revenue growth of 29 percent, and subscriptions, which rose 27 percent, outgrew expectations, Stimson said the investments could continue to pay off. "Some of the improvements to process are still ongoing so there may be more upside to come."
Flying High?
The results were anticipated by Red Hat observers because the company recently underwent an unexpected transition in its leadership after longtime CEO Matthew Szulik said in December he would leave the company due to family health matters.
Red Hat surprised many observers by tapping Jim Whitehurst, whose background is in the airline industry — he was chief operating officer at Delta — to succeed Szulik.
Open source's momentum "is strong and growing," Whitehurst said in announcing the results.
"We believe there is a significant opportunity to expand our presence with existing customers and the many companies and industries that have only just begun to adopt open source solutions in a meaningful way," he added.
Red Hat is benefiting from the continued growth of Linux, which remains the most trusted open source software choice in enterprises despite new entries from Sun Microsystems and others, said Gartner analyst George Weiss.
Though the debate continues to rage over whether the total cost of ownership is actually less for Linux, businesses are more comfortable with the approach than in the past and are moving toward more complex deployments, which in turn boosts the need for the support and services that drive Red Hat's revenue, Weiss told LinuxInsider.
"There is still skepticism and resistance, but over time it has started to erode away," he added.
Red Hat bought back 3.7 million of its own shares, spending $66 million on the buyback program. After the quarter ended, it also made one of its largest recent acquisitions, buying middleware consulting firm Amentra.