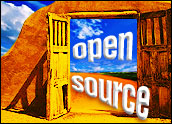 A new device called the Pepper Pad 3 is aimed at the convergence of digital media and the Internet, offering Web browsing, media playing, photo and other capabilities in a two-pound device that runs on an AMD Geode processor and Linux operating system.
The device, created by Pepper Computer and Hanbit Electronics, features a seven-inch screen, 20 GB hard drive, and the ability to browse regular Web pages and play video and music.
While there may be more of a market for such devices with more digital media, including television shows and popular music, on the Internet, analysts indicated the Pepper Pad 3 faces an uphill battle with a price tag of US$699.
"These devices in the past have been a tough sell to consumers," JupiterResearch Vice President Michael Gartenberg told LinuxInsider. "They're not super cheap, and they don't carry what consumers expect in PC functionality."
Pepper Appeal
Lexington, Mass.-based Pepper touted the new line of devices — the third-generation Pepper Pad offering a smaller, lighter package with better battery life, faster wireless and USB connectivity, and built-in Web camera — as "the first handheld devices to deliver a secure, seamless user experience for the increasing array of entertainment and communications services built around the convergence of the Web and digital media."
The Pepper Pad 3, available for pre-order at Amazon.com and more widely in August, can browse the Web, e-mail and instant message (IM), download and stream music, video and photos out of the box, the company said.
"Pepper has had the advantage of four years' experience to fine tune the Pepper Pad 3 to the specific consumer requirements for a handheld Web player," said Do-gyun Lee, Chief Executive Officer of Hanbit, the South Korean manufacturer of the new device.
Consciously Open Source
Loaded with open source software that includes the Mozilla Firefox browser, MPlayer voice, Helix streaming media applications, FreeType font and Cairo graphics libraries, the latest Pepper Pad runs Linux for the operating system's stability and resistance to viruses and other malicious software, Pepper spokesperson Mark Metzger told LinuxInsider.
"It was a very conscious decision not to use Windows," he said.
Linux was also ideal for the handheld device because it is a much more flexible solution that opens the platform up to more developers, Hanbit spokesperson Mark Phillips told LinuxInsider.
Digital Media Vision
The new Pepper device represents the latest incarnation of the vision that company co-founder and present CEO Len Kawell had when he conceived the handheld four years ago, according to Metzger.
"He was anticipating a number of the business and technology changes that at one rate or another have pretty much emerged," Metzger said, referring to wireless, digital media and Web 2.0 applications.
Metzger reported that while consumers were mostly wondering what the Pepper Pad was when it was originally introduced a few years ago, users react now wanting to try out the device to see how well it handles their Web media consumption.
High Price, Niche Place
The Pepper Pad 3 is not the only such media player handheld in the market, as Nokia offers its 770 Tablet, which is also Linux-based, and Samsung sells the Windows XP Tablet-based Q1 Ultra-Mobile PC, Jupiter's Gartenberg said.
"But at the end of the day, the problem has been consistently that consumers tend to prize the full PC functionality," Gartenberg said, indicating many would opt for a notebook that might be less expensive. "So the price points on these things is going to have to come down, and they are going to need additional functionality.
"That's why, for the time being, we see it as a niche product," Gartenberg added.
Compelling With Content
Price is probably the biggest hurdle for the Pepper Pad 3 and its ilk, particularly when mobile phones with advancing functionality are selling for $100, DataComm President Ira Brodsky told LinuxInsider.
He said while browsing the Web may not make the devices particularly appealing, easy access to digital media available on the Web, such as music and video, could draw more users.
However, those willing to pay the current prices typical with such devices will be limited to early adopters, Brodsky added, indicating the cost would have to come all the way down to $100 to $200 for mainstream consumers.