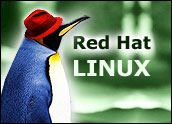 Red Hat this week released its first JBoss product within a new open source stack that folds together Red Hat Linux, JBoss Application Server, JBoss Hibernate and either of two open source databases — MySQL or PostgreSQL.
The Red Hat Application Stack, available via subscription, is offered as an alternative to proprietary application platforms and supports standard Linux, Apache, MySQL, Perl/PHP/Python (LAMP) and Java applications, the company said.
Red Hat Stacks
Red Hat announced its JBoss-inclusive, open source software stack just three months after it completed its acquisition of the popular application server company, promising a "clear and simple subscription model" with software, support, updates and upgrades from the Red Hat network.
North Carolina-based Red Hat called its new stack — available starting at about US$2,000 per year — ideal for resellers and highlighted the path toward low-cost, open source-based architectures. It also signaled that future stacks, or combinations of applications, will be optimized for specific markets including telecommunications and healthcare.
The Next Level
The firm's latest moves are signs of its strategy to take its offerings into more enterprise and mission-critical application levels, according to Illuminata Senior Analyst Gordon Haff.
"This really is an example of moving up from the operating system and getting value from the other software layers," he told LinuxInsider.
The Red Hat-JBoss offering came swiftly after the acquisition, Haff noted, but the combined company's efficiency isn't necessarily indicative of any sweeping acquisition trend on the open source playing field.
"You don't see a lot of overwhelming success out there," he said. "Red Hat is an exception."
Cultural, Technological Match
Red Hat and JBoss have previously partnered and have been known to share similar open source approaches and business models.
Still, the new software stack's availability just a few months after the merger represents record time to market in a situation like this, Interarbor Solutions Principal Analyst Dana Gardner told LinuxInsider.
The two companies, which each chose a commercial open source path in the market, meshed well together in culture and management — and their code and software applications also have integrated well. The combination of their technologies may offer some management advantages to Linux and Java users, who are Red Hat's target customers, Gardner said.
"To have common management capabilities across these products — that's almost unprecedented in commercial software," he noted.
The success of both Red Hat and JBoss — and now, potentially, a combined product — supports the basic idea of commercial open source, which is to build services and support around free and open source code, and bodes well for its acceptance by the market, concluded Gardner.