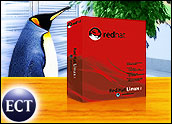 Red Hat this week announced a new service to provide full certification and production support for key open-source software stacks.
Starting in early 2006, Red Hat will offer three new stacks aimed at simplifying and standardizing open-source application stacks. The company said its goal is to allow developers to focus on their applications instead of configuring the underlying platform.
Each stack will be certified and supported on Red Hat Enterprise Linux and delivered in a subscription model with prices starting at US$599. The company said this announcement highlights Red Hat's growing focus on improving time-to-market for customers' development projects by helping reduce the certification and testing burden.
"Software developers are familiar with the performance benefits of Linux. Now, they're beginning to leverage popular open-source components for new development projects throughout their enterprise," said Paul Cormier, executive vice president of Engineering at Red Hat. "These new certified stacks will help them get to market faster, while giving them the confidence to deploy, knowing that Red Hat's proven production support capability is behind them."
Targeting Popular Open-Source Components
Under the new program, Red Hat said it is conducting extensive integration and testing of the various components running on the Red Hat Enterprise Linux platform. Red Hat is offering support initially for three stacks of popular open-source components: Web application stack, Java Web application stack, and Enterprise Java stack.
Dan Kusnetzky, vice president of IDC's System Software research, said IDC's surveys over the past several years have demonstrated that organizations are very focused on cutting costs and deriving immediate and measurable value from IT investments.
"Red Hat's move to add value above the Red Hat Enterprise Linux platform and into open-source solutions stacks is consistent with these organizational priorities," Kusnetzky said. "It is my view that this announcement will be well received."
Exploring Red Hat's Stacks
Red Hat's Web Application Stack is for simple Web sites and applications. It includes support for the popular LAMP components (the Apache HTTP Server, MySQL database and PHP scripting language), on top of Red Hat Enterprise Linux. Customers may also choose the PostgreSQL database, which is also available as an option with the Web Application Stack.
The Java Web Application Stack is for more dynamic Web applications, and includes support for all components of the Web Application Stack (LAMP + PostgreSQL), plus support for the Apache Tomcat Servlet and JSP container. Included with this stack are support and updates for key Java development libraries and tools: Apache Struts, Apache Axis, Spring, Hibernate, Lucene, Ant, Junit, Jython, Log4J and key XML libraries.
The Enterprise Java Stack includes support for all components of the Java Web Application Stack above, plus support for a full Java application server based on ObjectWeb's J2EE-certified JOnAS project (already available as Red Hat Application Server). Like the Java Web Application Stack, the Enterprise Java Stack includes support for key Java development libraries, as well as MySQL or PostgreSQL.
Broadening Open-Source Appeal
Interarbor Solutions Principal Analyst Dana Gardner told LinuxInsider that this move makes Red Hat more appealing to different aspects of the marketplace. Some enterprises want stacks integrated prior to acquiring the code. Others want full modularity to custom configure servers. Now, Red Hat offers both options.
"The notion that open-source can be done a la carte is alive and well," Gardner said. "But Red Hat, among other players, is recognizing that producing pre-configured approach will also expand their market penetration and the appeal generally of open-source stacks. This also helps Red Hat compete with vendors like Spike Source that provide configuration as a service."