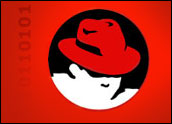 To quell the turmoil created Monday when it announced that its CFO had resigned "to pursue other opportunities," Red Hat has given financial analysts a glimpse of its end-of-quarter results, which it reports today after the markets close.
Kevin Thompson, Red Hat's CFO for approximately the last four years, issued a statement saying that he planned to spend more time with his family. "People were concerned not only with the news of the departure, but the timing of it," said Katherine Egbert, a securities expert at Jeffries & Co.
Thompson issued a statement that said, "My nearly four years at Red Hat have been personally and professionally rewarding…. The pace of progress at Red Hat has been incredible, though. So I now look forward to the opportunity to spend some additional time with my family."
Red Hat shares immediately fell on the news of Thompson's resignation, which clearly rattled investors. The shares slipped to a three-month low, falling US$2.24 — or 9.2 percent — to $22.06 a share in New York trading. Earlier, they touched $22.01. Red Hat shares have almost quadrupled in the past year.
Upbeat Call Expected
More than 38 million shares traded hands Tuesday, compared with an average three-month volume of about 5.4 million. The stock has since posted a modest recovery, hitting $22.53 Thursday morning as a preview of its soon-to-be-formally-announced results calmed nervous investors.
The company now says that it expects to earn $10 million — or five cents a share — for the period ended May 31st. A year ago, its profit was about $1.5 million — or one cent per share. Analysts' expected a profit of four cents, according to Thomson First Call.
Egbert told LinuxInsider that despite the resignation and its timing, she's "expecting a generally upbeat call today."
"The May quarter is in line with what people expected, in terms of revenue, and the amount of business they signed in the quarter — most of which was deferred revenue — is good, and indicates good health in future revenues."
Legal Troubles in Linux Land
Legal troubles in the Linux community appear not to have hurt the company, she said. "Red Hat will probably meet expectations, but SCO just disappointed its investors and had to disgorge some money back to disenchanted investors."
And in the larger Linux market, Egbert said unit grown in sales continues to be quite rapid, indicating continued health despite the legal maneuvering and posturing that has occupied many big companies involved in the Linux business.
Red Hat's chief money maker is Red Hat Enterprise Linux. Earlier this month, the company released a new version of the developer edition, Fedora Core 2. Some developers love Fedora but others have expressed concern about the two-tiered system [Lisa Stapleton, "New Red Hat Release Garners Kudos, Questions," May 20, 2004].
Shipments of the enterprise edition, however, are up. The company says that it sold 98,000 subscriptions last quarter, an increase of about 13 percent over the previous quarter. Final results will be announced Thursday at 5:00 p.m. Eastern after the New York stock markets have closed for the day.