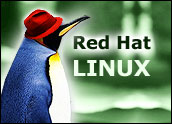 Red Hat on Tuesday rolled out Red Hat Enterprise Linux 7, the latest major release of the company's flagship Linux platform, six months after the software's beta version made its debut.
Among the key new features included in the release are KVM virtualization technology, an improved installation experience, Active Directory/Identity Management integration, and Linux containers as a key application packaging and delivery technology.
"Red Hat Enterprise Linux 7 redefines the enterprise OS because we deliver new tools and technical support to allow *enterprises* to take advantage of Linux containers," Mark Coggin, Red Hat's senior director of platform product marketing, told LinuxInsider.
"This includes distribution of Docker and all of the other features required for namespace isolation, resource management, security and process management," he added. "Having these tools made available within Red Hat Enterprise Linux and supported by Red Hat will open the door for enterprises to embrace new classes of applications, architectures and deployment models via containers."
More than 90 percent of companies in the 2013 Fortune 500 use RHEL, the company said.
'It Will Be Successful'
"The headline feature in Red Hat Enterprise Linux 7 is the inclusion of the Docker Linux container technology," Al Gillen, program vice president for servers and system software with IDC, told LinuxInsider.
The use of container technology has some "potentially powerful positive impacts on the use of Linux as a PaaS environment, and on application — rather than VM — density," Gillen explained. "However, like any new technology, adopting Docker will require a change in application configuration and packaging on the part of user organizations and ISVs."
Some investment will be required, in other words, before Docker or Linux containers truly can take off, "so we won't be able to call Linux containers a success or a failure for a while to come," he added. "The reality is it will be successful, but not wildly successful, for years to come."
Other new features in Red Hat Enterprise Linux 7 include significant file system improvements, including XFS as the default file system, scaling to 500 TB; optimized network management, bandwidth and security; enhancements to both NFS and GFS2; and the ability to manage Linux servers with OpenLMI.
The software also has achieved multiple world record-breaking benchmark results running on HP ProLiant servers, Red Hat announced.
'A Pragmatic and Smart Move'
RHEL 7's improved support for Microsoft's Active Directory service is the other feature that caught Gillen's attention.
"This is an acknowledgment of the position that Windows holds, and will continue to hold, for the foreseeable future in corporate IT," Gillen said. "This is a pragmatic and smart move on the part of Red Hat.
"My only disappointment is that Red Hat and Microsoft continue to stare one another down without directly engaging and working together as they should on interoperability issues," he added.
'A De Facto Standard'
RHEL 7 "marks Red Hat's embrace of cloud computing in a couple of ways, along with the operating system's usual dedication to enterprise stability and predictability," Jay Lyman, a senior analyst for enterprise software with 451 Research, told LinuxInsider.
Red Hat seeks to do for enterprise applications "what we've seen with mostly Web and mobile applications thus far — that is, make them more lightweight, portable and standardized," he explained. Application containers and RHEL 7's integration and support for Docker are both steps toward that goal.
Docker "continues to emerge as a de facto standard for packaging applications that are distributed over various infrastructures, particularly the cloud," Lyman pointed out.
Finally, RHEL 7 introduces performance and scalability improvements via tuning and instrumentation and the new XFS default file system, he added. "Also significant is deeper Windows Active Directory support in RHEL 7, which is critical for the common mixed-OS environments of large enterprises."