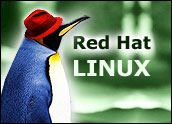 Red Hat is getting ready to roll against rival Novell with the latest version of its Linux Enterprise server. Red Hat Enterprise Linux 4 will feature the 2.6 kernel complete with enhanced features that Novell SuSE is already peddling.
The Linux community is speculating that Red Hat will release the new version of its enterprise server during LinuxWorld in Boston on February 14. Red Hat could not immediately be reached for comment, but Illuminata analyst Gordon Haff told LinuxInsider that the impending release is "fairly common knowledge."
Indeed, Red Hat released the beta version of its Linux Enterprise 4 server last September with the updated kernel. The 2.6 kernel is already at the core of Red Hat's Fedora, a free Linux package designed to woo users to its project.
The 2.6 Rivalry
"The 2.6 kernel has a lot of enhancements in terms of scalability," Haff said. "There were a lot of enhancements made to the scheduler that improves both real-time and interactive performance. There are also improvements in out of the box device support."
Novell beat Red Hat to the punch this time around, incorporating the 2.6 kernel into its SuSE Linux Enterprise Server 9 released last August. Analysts said SuSE is on a more favorable development cycle than Red Hat, which released its last Enterprise Linux version before the 2.6 kernel was finalized.
According to Haff, SuSE is somewhat more aggressive at introducing new enterprise server technologies than Red Hat. He pointed to the early release of SuSE's 2.6-based version as evidence. But while launching the 2.6 kernel was a higher near-term priority for SuSE, the Novell acquisition has changed the playing field.
"At least in North America, I hear less about SuSE since the Novell acquisition than before," Haff said. "As there often is with any merger or acquisition, there's been a lot of energy going into internal organizational concerns at Novell. So it remains to be seen how things are going to develop with Novell and Linux."
Red Hat Not Blushing
IDC predicts the overall market revenue for desktops, servers and packaged software running on Linux will exceed US$35 billion by 2008. A predicted growth rate of 25.9 percent would seem to indicate a pie big enough for both Red Hat and Novell to feast on in the coming years. Who will reign supreme? Analysts said that remains to be seen.
"Red Hat does not appear to have been hurt in any significant way by being relatively late in rolling out a distribution with 2.6 kernel," Haff said. "That's one thing we can say."