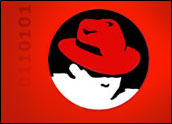 Red Hat says it is ready to unveil its biggest release in two years. Developers and users of the open source Red Hat Enterprise Linux (RHEL) have packed on more than 1,000 new components for stability, security and virtualization, among other features, according to the company.
The unveiling of RHEL 5 Beta 2 — a compilation of community andcustomer-generated enhancements and additions to Red Hat's latest Linux distribution — comes as the company faces increasing competition. Oracle has begun offering its own, lower-cost support for RHEL, and Linux rival Novell has forged an interoperability and patent partnership with Microsoft.
Two years "is a long time in the world of open source," Red Hat Marketing Manager Nick Carr told LinuxInsider. "It's a breaking dam of new features."
Seven-Year Stretch
RHEL 5 Beta 2 represents the last beta Linux from Red Hat before itreleases RHEL 5 Release Candidate early next year, to be followed by thefinal version, Carr said.
Of some 1,200 new components in the Beta 2 release, Carr highlighted these: security enhancements through SE Linux; a single-node Global File System (GFS) for simplified clustering; and virtualization, which Carr said "overwhelms all other features."
Some of those other features, including new desktop graphics and updates, and enhanced multimedia and wireless support, are incremental. Another focus of the latest RHEL is interoperability with Windows and Unix, according to Carr, who said Red Hat is looking toward the long term.
"Since we're supporting it for seven years, we want to make sure it'svery stable," he said.
Virtualization and Beyond
Red Hat is focusing RHEL 5 Beta 2 on its own technology forvirtualization — which involves the running of multiple instances of software on single servers — its partnership with VMware, and the incorporation of the open source Xen virtualization technology, Red Hat Product Manager Joel Berman told LinuxInsider.
While IT organizations have been benefiting from serverconsolidation, he said, they have been struggling to keep up with the management and control of virtualized machines, which RHEL 5 attempts to address with its new GFS cluster management and a software installer that can simplify virtualization.
With RHEL 5 Beta 2, users and administrators who are capable ofinstalling Red Hat Linux on a machine should be able to install avirtual instance of Red Hat, according to Berman.
The migration from RHEL 4 will also be eased byvirtualization, he pointed out, suggesting that organizations could run virtualinstances of the newer RHEL 5 to gain its benefits without disruption,then migrate natively when ready.
Open Source Snapshot
RHEL, like other enterprise Linux distributions, tends to provide thefeatures and functions of a given time period, despite continueddevelopment of new features that will make their way to market later,Illuminata Senior Analyst Gordon Haff told LinuxInsider.
"It's really a snapshot of where they are," he said. "Essentially,these are snapshots of where the train happens to be at a particularinterval."
Despite Red Hat's prior reservations on the readiness ofXen's open source virtualization technology, it is now"one centerpiece of RHEL 5," Haff said.
Red Hat was, in fact, hesitant to incorporate such a fast-moving andfast-changing technology into its Linux distribution, but Xen hasimproved and matured at an impressive rate, winning the backing of Inteland Advanced Micro Devices, so Red Hat stepped-up its inclusion in RHEL, Bermansaid.
The Oracle Factor
As Red Hat releases RHEL 5 Beta 2, much of the industry discussion surrounding the company still centers on Oracle's announcement last month of its Unbreakable Linux, a plan to provide RHEL support directly and at a reduced price.
The Oracle play does not affect Red Hat's RHEL 5 Beta 2release, Haff noted, but does put pricing pressure on the Linux market leader.
"How big of an impact it has remains to be seen, especially withapplication certification and other issues," Haff said.
Berman, who described Oracle's Linux support announcement as"rushed," said it will take Oracle some time to be able to support RHEL.He also questioned Oracle's participation in the free and open sourcesoftware development community.
"How much will Oracle promote free software that competes withtheirs?" he wondered.