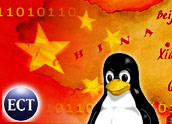 In a move to tap into the demand for low-cost software in developing markets, Red Hat announced yesterday it would open its first office in Beijing, China this week.
The company said it is working with partners such as HP, IBM, Intel and Oracle to help the Chinese market learn more about open source and how to leverage its full benefits.
Red Hat President and CEO Matthew Szulik said the company sees a great future for Red Hat in China.
"Open-source software, and particularly Linux, has a critical role to play both in advancing the development of China's rapidly growing software industry and in creating the best information infrastructure for China's globally competitive enterprises," Szulik said.
An Inevitable Move
Steve O'Grady of the research firm Red Monk told LinuxInsider that Red Hat's foray into Asia was all but inevitable. China, he said, is a critical market for any Linux vendor.
"China is a market of opportunity and it has given indications that it is Linux-friendly," O'Grady said. "Red Hat needed to establish itself in China because China is one of the better and more sizeable Linux markets in the world."
One of the first initiatives for Red Hat Beijing will be to support Linux and open-source education by making the Red Hat Academy program freely available to students.
Red Hat Academy is Red Hat's training program designed to enable teachers totrain students to be Linux proficient. Red Hat is working in partnership with Tsinghua University and Nanjing University to establish the program in China.
With the training program Red Hat hopes to not only educate students on open-source fundamentals, but also inspire new open source development and entrepreneurialism.
Rallying Around Red Hat
Red Hat has plenty of partner support in its China initiative. HP, IBM, Intel and Oracle are rolling out the red carpet for their Linux industry partner.
Sam Lo, China HP's Director of Enterprise Storage and Servers, said HP is "committed to developing the Linux market in China."
David Sung, vice president of IBM Software Group, GCG, said, "We will be able to take advantage of leading technologies of both companies for better on demand solutions for our Chinese customers."
Ian Yang, Intel China general manager, said, "working with companies like Red Hat is part of the company's commitment to deliver high-performing Intel-based solutions to the Chinese market and to ensure Intel-based platforms are the platform of choice."
And Leigh Warren, vice president of the Linux Business Unit for Oracle Asia Pacific, said demand for Oracle solutions on Linux has steadily increased over the last several months.
"Oracle has enjoyed a long relationship with Red Hat to jointly service customers and we look forward to working together to service the Chinese market," Warren said.
Linux Competition
For all the hoopla about Red Hat's entry into one of the world's largest consumer markets, the company still has plenty of competition from Asian Linux distributors, according to O'Grady. But he said the risks outweigh the rewards.
"Red Hat needs much less of a percentage in China to achieve the same numbers that they get in the States because China is a massive market," he said.
"So on a percentage basis Red Hat can ratchet its goals down a little bit and still be quite successful. I don't see this as a tremendous risk for Red Hat."
O'Grady said U.S. Linux competitors have every reason to be concerned about Red Hat's entry into China. Sun signed an agreement with a consortium sponsored by the Chinese government last year to get its software on about 200,000 desktops and could stand to lose market share in China with Red Hat's presence.
"It will be interesting to see what a stronger Red Hat presence in China means to some its Linux competitors," O'Grady said. "Obviously they would prefer for Red Hat not to achieve the market dominance in China that it has in the States."