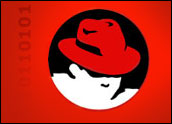 Open source software provider Red Hat reported strong revenue growth for its second fiscal quarter and announced there are now more than 3,000 applications certified to run on its Enterprise Linux operating system.
The company saw US$127.3 million in revenue for the quarter, an increase of 28 percent compared with the same quarter last year and 7 percent more than the prior quarter. Red Hat said its subscription revenue was $109.2 million, up 29 percent year-to-year and up 6 percent from the previous quarter.
The quarterly profit of $18.2 million was $2 million more than the prior quarter and about $7 million more than the same quarter last year, said Red Hat. The non-GAAP (generally accepted accounting principles) adjusted net income for the quarter was $36.9 million, or 17 cents per share.
Global Gains
The second quarter marked another period of improved global sales channel performance, customer acquisition and overall operating performance by the company, said Chairman, CEO and President Matthew Szulik. "Financial results for the quarter were at or above the high end of company guidance."
Strong growth in Japan and other international markets played a big part in the latest financial results. Red Hat pointed to a Nikkei Market Access survey that ranked the company as being the IT vendor most Japanese companies want to do business with in the future. Red Hat noted that, in three consecutive years, it was ranked by a CIO Insight survey as being first in value for enterprise software.
The thesis of the Red Hat economic model is to help enterprise customers cut IT operating and maintenance costs, Szulik said. Those expenses take up 40 to 60 percent of an IT department's budget, reducing the available dollars for other pursuits, such as innovation and support for new business initiatives.
"During my time at Red Hat, IT executives and I have met and they have described to me they are focusing on the same issue: Replacing these costs with innovative, flexible solutions that improve their firms' competitiveness," said Szulik. "Customers I speak with are focusing on creating a contemporary computing architecture that features agility as well as reduced costs."
Hostile Environment
The successful quarter must be particularly satisfying to Szulik and his Red Hat colleagues given the tough business environment the company is enduring, said Enderle Group Principal Analyst Rob Enderle.
"Red Hat turned in strong financial performance against what is likely the most hostile competitive environment they have ever faced," Enderle told LinuxInsider. "Novell has partnered with Microsoft to move against them with a very strong interoperability message, and Oracle is basically reselling their product under the Oracle brand without sharing any of the revenue."
Enderle said the efforts of both Oracle and Microsoft are probably going to gain strength, but Red Hat seems to be "doing surprisingly well against them at this point."
Work in Progress
Red Hat also announced the continuation of a stock and debenture repurchase program, under which its board authorized the buyback of up to $250 million of the company's common stock and up to $75 million of its 5 percent convertible senior debentures due in 2024.
Buybacks of this sort tend to increase stock price, but not the value of the company and "reduces the firm's liquidity, offsetting the benefit for experienced investors," Enderle said.
Red Hat is trying to transition from a one-product shop to being multi-product, said Brenon Daly, financial analyst for The 451 Group.
"They bought JBoss to help get them along that route, but the results from the JBoss acquisition haven't been what Red Hat would have hoped," Daly told LinuxInsider. "Clearly the core business is doing very well and it's no doubt Red Hat is flowing along on that, … but they need JBoss to really get into that core infrastructure. That's why they spent $350 million on JBoss and they are working on the integration, but it just hasn't clicked for them yet."
Open Source Demand
In addition to revealing its Q2 numbers, Red Hat said it continued to build its ecosystem by surpassing the milestone of more than 3,000 applications certified on Red Hat Enterprise Linux. It also noted the quarter saw the released of a beta version of the Red Hat Developer Studio, and JBoss Enterprise Application Platform 4.2, an "enterprise-ready platform" enabling older applications to migrate to new open-source architectures.
Red Hat continues to see "robust demand" for its open source solutions, said Charlie Peters, Red Hat's executive vice president and chief financial officer.
Company officials could not be reached to comment on a Reuters report in which Szulik said Red Hat has been forced to delay, until October at the soonest, the introduction of a new version of its Linux software for personal computers.
"The delay of the PC product is problematic as it implies execution problems; however, bringing a product out before it is ready is worse, and if the product is good when it comes out, the negative impact will be more than made up for with the success of a more viable offering," said Enderle.