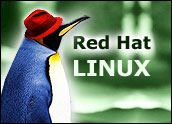 Open source computing company Red Hat is testing the waters for delivering its Enterprise Linux operating system on a pay-as-you-go online basis through Amazon's Web services system.
The deal, in private beta testing, means companies can use Red Hat Enterprise Linux on the Amazon Elastic Compute Cloud, known as "Amazon EC2," on an on-demand basis.
The arrangement means the company can "offer customers yet another choice in how they deploy the Red Hat Enterprise Linux platform," Red Hat Vice President of Online Services Donald Fischer said.
Delivered remotely, Linux "will be appealing to developers, customers looking to quickly and cost-effectively deploy Web-scale services and businesses that require rapidly scaled compute resources," Fischer said.
The "marriage" of Red Hat's version of the open source Linux OS and Amazon's EC2 "makes the promise of professional Web scale computing a reality," he added.
Not Chintzy
Red Hat Enterprise Linux is the first commercially supported operating system to be made available on Amazon EC2, noted Red Hat. Businesses accessing Enterprise Linux through the EC2 will not get a bare-bones or compromised version, Red Hat stressed.
Red Hat said customers will get all the capabilities of the OS, including the Red Hat Network management service, technical support and more than 3,400 certified applications.
"This offering will further help customers to avoid the heavy lifting of deploying and managing their own infrastructure, while paying as they go for Red Hat's proven Enterprise Linux solution," said Adam Selipsky, Amazon's vice president of product management and developer relations.
Why Buy When You Can Rent?
Red Hat suggested the deal "changes the economics of computing" in that it enables businesses to pay only for the software services it needs. The structure of the EC2 system allows companies to easily increase or decrease the amount of computing time they purchase.
This can be done "within minutes," a level of flexibility that eliminates the need "to over-buy software and hardware capacity as a set of resources to handle periodic spikes in demand," Red Hat said.
The company said it expects the beta testing to go public before the end of the current fiscal quarter. The current prices are US$19 per month per user, and 21 cents, 53 cents or 94 cents for every compute hour used on EC2, "depending on whether customers choose a small, large or extra-large compute instance size, plus bandwidth and storage fees."
Red Hat also announced it will soon offer Red Hat Appliance OS, which allows third-party independent software vendors to custom-fit their applications to appliances. Additionally, Red Hat announced Enterprise Linux 5.1, a new version of the operating system that has improved virtualization capabilities.
Capacity for Sale
The pairing of Red Hat and Amazon seems to be an ideal combination, In-Stat Group Principal Analyst Gerry Kaufhold said.
"When you think about this, Amazon is the world's largest online e-tailer and obviously they have a tremendous content-delivery network and transaction processing network," Kaufhold told LinuxInsider. "There is probably lots of CPU time and storage capacity on their data centers that are not being used fully. This is available inventory of processing and storage and this [deal] extends Amazon from being an item-by-item retailer into having an opportunity to retail a service that runs continuously."
Kaufhold acknowledged that a big roadblock to remotely-delivered computing has been reluctance on the part of companies to trust third-parties with their vital data. He said Amazon has proven itself capable of securely handling delicate and personal information.
Any Way to Get Some Traction
The arrangement comes across as a smart way for Red Hat to extend its product distribution, according to J. Gold Associates Principal Analyst Jack Gold.
"There is a move afoot for all of these guys to try to establish a position in Linux because they see it as a growing market," he told LinuxInsider. "The question becomes how to do that. What's the best channel for us to create momentum and customer loyalty? Hosting is one way for them to do that. If they can provide a hosted service where people can come, sign up and get their fix, so to speak, it's another distribution channel for them."
The hosting model is a good one especially for growing companies that want to focus their resources on their core business, not on IT infrastructure and staffing, both analysts said.
"If you are trying to save money and add processing capacity, this may be a lower-cost alternative with fairly low risk," said Kaufhold.