One of the problems with smartphones up to now is that they behaved more like a computer than a cellphone. That's not the case with the Moment, Samsung's new smartphone based on Google's Android operating system.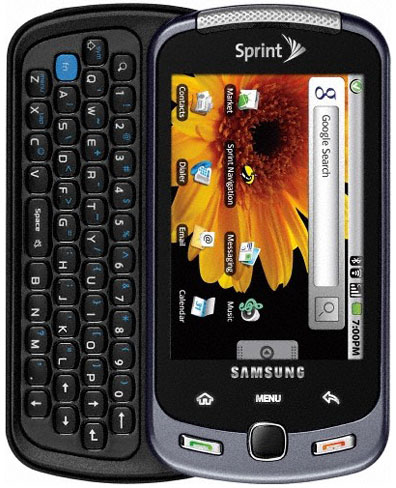 The Samsung Moment, available through Sprint.
Android's use of a touchscreen for navigation and easy-to-use applications — a la the iPhone — brings to the Moment what's missing from many smartphones: intuitiveness. Learning the ropes on the mobile is as easy as learning a Web application, which shouldn't surprise since Google has plenty of experience in that department.
The phone, offered through Sprint, is loaded with features.
Real World Navigation
It has GPS navigation. Using Sprint Navigation, the unit will give you turn by turn instructions. The app will also display maps and traffic information and perform geo searches for food and coffee shops, gas stations, ATMs, parking lots and more.
It does email — not only Gmail, but Pop 3 and Microsoft Exchange mail through Moxier.
Web surfing was quick on Sprint's 3G Now Network, and viewing pages on the unit's AMOLED, which measures 3.2 inches diagonally, was comfortable. With a resolution of 320-by-480 pixels and support for 16 million colors, screen content was sharp and very readable. Moreover, swiping the screen displays a tool for zooming in or out on a page.
The touchscreen makes it easy to navigate on material, although finger swiping on the display isn't as responsive as it is with comparable devices like the iPhone or Motorola Droid.
An alternative form of navigation lies between the call and end-call buttons on the front of the unit. It's a miniature trackpad that works like the ones on a notebook computer.
Apps Galore
Applications for the Moment can be downloaded from Android Market, which can be reached by poking an icon on the home screen.
However, out of the box, the Moment comes loaded with apps, which are accessible by tapping a large virtual button on the home screen. Among those apps are an alarm clock, calculator, calendar, address book, NFL mobile live, Google Maps and Amazon's MP3 store, although you probably won't want to listen to music through the phone's tinny speaker.
There's also several Sprint apps included with the phone, including Sprint TV. Its programming choices include The Weather Channel Mobile, ABC Mobile, Sirius Music and the Disney Channel.
Scrolling through the apps isn't as convenient as it is on some other products in this category. Instead of breaking up the apps on single short screens that can be paged through horizontally with a flick, the Moment's apps are placed on a long vertical screen that requires vertical scrolling. Often that results in more up and down scrolling than is necessary.
Shoots Stills and Video
In addition to making connections through the Sprint network, the unit supports Bluetooth and WiFi 802.11 b/g.
Both landscape and portrait modes are available from the display, and the unit moves spritely between the two.
Activating the phone's built-in 3.2 megapixel camera can be accomplished quickly by pressing and holding in a button on the right side of the mobile. The camera has an autofocus feature, as well as zoom and flash for capturing snaps in low light. There's also a small mirror button beside the camera lens to facilitate self-portraits and arms-length shots. In addition, the camera will shoot H.264 video at a resolution of 352-by-288 pixels.
The moment is a split-level phone. The display slides forward to uncover a QWERTY keypad for typing. Although typing may seem old-fashioned with a state-of-the-art touchscreen, doing it on a keypad is still easier than pecking out words on one of those virtual keypads — although the Moment has one of those, too.
Keypad Done Right
If there's one thing Samsung knows how to do right, it's designing "thumbboards." The keys on the Moment's clavier are nicely contoured and with enough space between them to make thumbing them very easy. For a keypad this size, the action is exceptionally smooth and responsive.
Typing in the dark isn't a problem with the Moment, as the letters on the keypad are backlit. Another nice touch is the inclusion of four arrow keys for moving your cursor as you would from a proper keyboard.
The one drawback to the keypad is its shifted functions. The "fn" key is bright blue and easy to see, but the shifted characters are also in blue but don't stand out on the black keys.
The Moment has a little more power under the hood than some other Android phones. It has a Samsung Atom processor running at 800 MHz. It also has 256MB of RAM, 512MB of ROM and includes a 2GB miniSD card, which can be upgraded to 32GB.
What a Smartphone Should Be
The 1440 mAh battery is also bigger than what's found in comparable units. Talk time for the device is 5.5 hours, according to Samsung.
Although a bit on the beefy side, its dimensions (4.6-by-2.3-0.7 inches) and weight (5.7 ounces) are comparable to other Android phones.
Sprint is selling the Moment for US$179.99 with a $50 instant rebate, $100 mail-in rebate and two-year service agreement.
Samsung's Moment, thanks to Android, is everything a smartphone should be. Not only does it allow its operator to be productive out of the office, but it's fun to use, too.