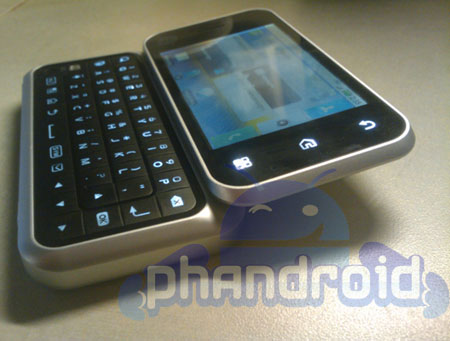 The Motorola 'Backflip' or 'Enzo' is depicted in this photo leaked to
Phandroid
by an anonymous tipster.
Motorola is rumored to be bringing another Android phone to market — one that's named either "Backflip" or "Enzo," according to information and photos an anonymous source provided to Phandroid.
The device supposedly will run on the AT&T Wireless network.
Motorola's Kathy Van Buskirk and AT&T's Michael Coe declined to comment for this story.
Keyboard Location
The most striking thing about the Backflip, based on the photos, is the placement of the QWERTY keyboard: When it's closed, the screen is on one side, and the keyboard is on the other. When it's open, the keyboard is positioned beneath the screen.
Other features that may be included in the Backflip/Enzo are Yahoo Search, AT&T Nav, AT&T Music and the AT&T Mobile App store. No Google Apps will be included on the phone, except perhaps Google Maps.
It has a 5 megapixel camera, according to an earlier post on Android and Me, which referenced it as the "Motus." Other specs: 528 MHz Qualcomm MSM7201A; 512 MB ROM; 256 MB RAM; 3.1 inch display; Bluetooth 2.0.
It will run Android 1.5 with Motoblur, according to Android and Me. There is also a rear directional touchpad.
Motorola's Comeback?
It is not surprising that Motorola is the manufacturer supposedly developing the Backflip, Allen Nogee, principal analyst with In-Stat, told LinuxInsider. "Motorola has made a big push for Android. It developed the Droid, for example, which has become a very competitive phone."
Motorola, which has been undergoing financial and competitive difficulties for several years, appears to have linked its fate to Android, to a certain degree, observed Nogee.
"It has been enthusiastically supporting Linux-type phones for several years," he said.
Unusual Form Factor
The Backflip's strange design is not necessarily a bad thing, suggested Nogee.
"I think if a phone manufacturer can figure out a new form factor to develop — one that is functional for users, that is — it will draw in buyers," he maintained.
People want a phone that stands out and is unique, Nogee said, especially as there are so many high-end devices on the market already.
Indeed, device manufacturers are going to have to become more creative as Android after Android comes to market, Greg Sterling, principal with Sterling Market Intelligence, told LinuxInsider.
"It remains to be seen if the keyboard innovation is accepted or not by consumers. Also, of course, price will be a big driver of adoption as well, he said. For the most part, price points for Android smartphones have settled in around $175.
iPhone Killer?
Could the phone potentially be an iPhone killer? Though unlikely, that would be ironic, since AT&T is still the exclusive iPhone carrier.
That state of affairs is certainly due to change sooner or later, however, and AT&T is wise to have an Android phone in its product pipeline, Sterling said.
Even so, "I just don't see this phone taking away market share from the iPhone — or even trying for that matter," he added.
Backflip vs. Nexus One?
The device the Enzo may compete against is the Nexus One: the Google-branded Android phone reputed to be going on sale as early as Jan. 5.
The HTC-manufactured phone is quite good, according to Sterling, who saw a prototype.
"It has a big screen, and it is very, very fast," he commented. The only drawback was the lack of multitouch.
The smartphone market is increasingly becoming commoditized due to the growing number of devices, noted Sterling. Only a few phones are able to assume a special "star quality" status. The iPhone is such a device, and the Droid is arguably one as well. The Nexus One also shows potential to stand out from the crowd. It follows that devices such as the Backflip will be quickly relegated to the crowd of Androids on the market after enjoying some initial buzz.
"We are getting to the point where the consumer will not be able to distinguish between the Android phones that are on the market," Sterling said.