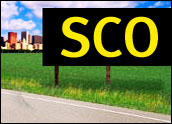 The SCO Group last week sought to stop a summary judgment filed by IBM by submitting written arguments that claim IBM has mischaracterized the lawsuit and failed to provide relevant information to the company.
If IBM is successful in gaining a summary judgment, the case would essentially see a quick end. SCO is seeking to keep the court from such a ruling by claiming that it has acted in good faith and deserves the chance to present its case.
IBM also has asked the court for a declaratory judgment on whether the company violated SCO's copyright. A ruling on this could prevent new copyright claims against IBM in the future.
SCO's case claims that IBM put parts of Unix into the Linux operating system, which would constitute a breach of contract with SCO, the company has noted. Since the case's start, SCO has increased its request for financial compensation from US$1 billion to $5 billion.
War of Words
In its recent written argument, SCO noted that IBM has repeatedly portrayed the case as being about literal copying of Unix source code into Linux.
This is a mischaracterization, according to the company, because the case actually concerns IBM's contribution to Linux of the "resulting materials" it created as modifications to Unix System V. These modifications, as well as derivative works based on the system, constitute a breach of IBM licensing agreements, SCO claims.
The company also filed a motion to compel IBM to release more documents, including executive memos, information about programmers, and source code related to IBM versions of Unix.
The filing noted that IBM should provide the full files of Sam Palmisano, IBM's chief executive, as well as minutes from the company's board meeting. SCO noted that it needs the information to fight IBM's claim that its Linux moves have not infringed on SCO copyrights.
Although SCO has noted that it will not seek to gain information from the thousands of contributors that made material contributions to Linux, it is seeking a deposition from Linux creator Linus Torvalds. The company also wants to get information from some senior programmers, IBM partners and private groups that have made contributions to the open-source operating system.
Just to Summarize
A summary judgment is a "big deal," according to Jeff Norman, intellectual property partner at the Chicago law firm Kirkland & Ellis. He told LinuxInsider that the motion basically asks the judge to issue a judgment without going through a trial.
It indicates that the case is too weak to have been brought in the first place, and that the plaintiff has little to no chance of winning with the evidence it plans to present.
The tactic is not used often, because attorneys understand how difficult such judgments are to get, said Norman. "They deprive the plaintiff of their day in court," he noted. "Our court system favors giving people the opportunity to seek a trial and have their say."
Strategic Moves
Norman added that it is also unusual for IBM to ask for such a judgment before the close of discovery. Usually, the motion is presented after both sides have had a chance to review relevant materials during the discovery period.
"In a typical case, they finish discovery and then say, 'there's nothing here,'" he said. "What this tells me is that IBM is trying to cut the discovery process short and saying that SCO isn't entitled to more discovery."
If the discovery process is allowed to continue, it is probable that SCO and IBM will submit further motions and arguments that could make the case into a long one.
"My prediction is that the court will at least ask SCO to fill in the gaps in terms of evidence," Phil Albert, a partner with San Francisco firm Townsend & Townsend told LinuxInsider. "At that point, they may try to cloud the case further by bringing up other issues."
The court will hear oral arguments from both companies concerning the summary judgment on August 4th.