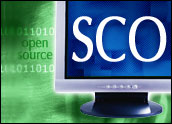 It's not clear whether or not industry watchers were holding their breath for the SCO Group's planned November 1 launch of its legal information site to counter the popular Groklaw.net site.
But if they were, they may be blue in the face before they see the site that was supposed to chronicle SCO's multibillion-dollar suit against IBM and others.
Domain Change
Rumor has it that legal issues are the reason behind the stalled start of the site, which will be dubbed SCOinfo.com should the project go forward. SCO had originally said in October that the site would use the domain name Prosco.net.
SCO public relations director Blake Stowell told LinuxInsider that the company "still plans to have a site in the near future that helps people gain information regarding the protection of our intellectual property."
"While the site isn't available yet today, we are taking a little more time to make sure we do the site correctly," Stowell said. "We aren't giving a specific date by when the site will go live. In the meantime, people can access filings from our litigation with IBM and Novell at www.sco.com."
Community is Central
Groklaw postings often contain less-than-flattering portrayals of SCO. Prosco.net was supposed to be just that — pro SCO. The company hoped to launch its own legal defense site with more extensive information than its corporate Web site offers.
The site would include court filings, news articles, background and history of the Unix code and quotes from the company and company officials hoped it would augment press coverage of SCO's many legal confrontations.
Red Monk's Steve O'Grady told LinuxInsider that SCO's decision shows a lack of understanding of what drives Groklaw, which is essentially a community.
"The value of Groklaw is the community itself, with people attending hearings, scanning documentation, getting it posted online and discussing it," he said.
Restricted Access
SCO's site was also going to be closed to the public, which, O'Grady says, is no way to compete with Groklaw, which has fostered a massive community of Linux and open-source watchers.
"To do it right, SCOinfo.com would have to be open to the public. I can't see any way that they would not get flooded with anti-SCO sentiment from people who are violently against and oppose what SCO is trying to do," he said.
"They have certainly individual defenders here and there but that's not enough to drive a community-fueled site."
Barring some sudden change of heart, it looks like Groklaw will remain the primary site where Netizens visit to gather information and analysis of intellectual property issues, including those relating to SCO and its suits against IBM, Novell and Red Hat.