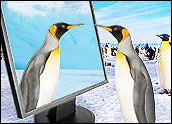 SolusOS is a relatively new Linux distribution that is attracting considerable interest as an alternative to unpopular desktop replacements for traditional Linux user interfaces. It has much to offer Linux users who reject the Gnome 3 desktop and find little appeal from the KDE and Unity desktop environments.It also provides Linux newcomers from the Microsoft platform a comfortable and familiar desktop experience. SolusOS has a look and feel reminiscent of Microsoft Windows yet lets experienced Linux users revel in the ease of a Gnome 2 shell with a custom GNOME menu wrapped around a modern operating system based on the successful Debian distribution.
Favorable Impression
I have gotten very cozy with both the latest KDE and the Cinnamon desktops in the Linux Mint distro. Still, I was very pleased with SolusOS's stability and general ease of use. After using this distro newcomer full-time for the last few weeks, I only have some minor gripes abouts its design and performance.
For both Microsoft converts and regular Linux users, SolusOS is a lightweight system that works well on both old and new computers. I found that it was even a peppy solution running from a live DVD session on an older laptop with 3GB of RAM and an Intel Core 2 Duo 1.83 GHz processor.
After an almost effortless installation, SolusOS needed no core computing applications added to the default mix. It comes fully stocked with a complete set of multimedia plugins. It worked without hitch with all the productivity tools most users need for word processing, audio/video playback and editing.
Popularity Rating
Linux distros, just like other important product decisions, should never be made solely on popularity ratings. But much like user reviews of software and hardware, the popularity ratings of respected rating organizations can be a good indication of quality performance.
With that in mind, SolusOS has been making a steady upward climb in DistroWatch's page-hit rankings. SolusOS is hovering around the No. 12 slot in the top 100 Linux distros.
A huge factor in this project's early success is its ability to maintain state-of-the-art Linux components without compromising on the Gnome 2 user experience. SolusOS's development team has molded a classic Gnome 2 menu using Gnome version 3.4.2 with no new user interface.
I see numerous similarities between this SolusOS's look and feel and that of Linux Mint without the Cinnamon desktop environment. Much of the credit for this performance achievement goes to Ikey Doherty, the SolusOS project's founder and lead developer. He created the Linux Mint Debian Edition.
Stumbling Blocks
Installing SolusOS is fairly routine. But novice computer users in general — and newcomers to Linux in particular — will have to work a little bit harder than they should if they want to set up a dual boot with Microsoft Windows or another existing Linux OS.
The development team took the easy path by not including an automatic partition capability. If you want a Plane Jane installation, then SolusOS will rewrite the existing hard drive partition and replace the existing operating system.
The installation routine offers a Gparted-like function to set up a dual boot scenario. But this requires the user to manually make partition settings and choose mount points and the swap partition size. That is more than enough discouragement to drive a non-techie new user elsewhere.
Another glitch occurred with the wireless connection. I had to manually create and edit a wireless connection setting for a laptop installation. SolusOS does not have an automatic scan wizard. However, it did make the hard-wired Internet connection without any intervention on my part for a desktop installation.
Good Ol' Gnome GUI
If you are a fan of the classic Gnome desktop, SolusOS brings back all of that functionality without imposing the unpopular trappings of the new Gnome generation. By default you get one Gnome panel at the bottom. As expected, right click on the panel to add more panels.
The left end of the panel sports the Cardapio menu button. The opposite side of the panel is home to traditional system widgets. Again, right click on the panel to add more. The Cardapio menu is a Slim Jim application menu and launcher for Gnome.
It works in two modes. One is a panel applet serving as an alternative to Gnome's application menu applet. The other mode is a stand-alone launcher which works much like a stripped down version of the Gnome Do app. The menu itself has a native GTK interface with plug-ins for running in-line File searches. You can also use it to launch applications.
The menu button lets you launch applications or search for applications by category or name. For a quicker launch of your favorite applications, you can just drag the application icons to the desktop screen and launch them from the desktop just like how you do in Windows.
Nice Touches
SolusOS actually has a few tricks that I wish Linux Mint and other distros had. The function keys are mapped for launching tasks much like those in Microsoft Windows.
For example, The Fn-1 key opens a desktop help window. The Fn-10 key opens the right-click mouse context window. Pressing the Fn plus other function keys performs the dedicated tasks mapped to those keys. These include audio volume and screen brightness.
The Fn-3 key launches the x-Nautilus file manager. Press Fn-3 when Nautilus is open to get a split window that allows you to view the contents of two locations. Press the Fn-9 key to show or hide the Nautilus side panel.
More Good Stuff
Similar to openSUSE and Linux Mint, SolusOS has a nice selection of 28 wallpaper images. Right click on the desktop and select the option to Change Desktop Background. Then click on a thumbnail of the desired view. The change is executed immediately. Click the grid-like icon in the upper right corner of this window to open the System Settings panel.
Eye Candy is another treat you do not have to give up. Since SolusOS has Gnome 2 underpinnings, the OS is not anemic to Compiz. In fact, under the System Tools menu is the CompizConfig Settings Manager. There you check all the nifty desktop treatments such as the Desktop Cube, Fade to Desktop and Widget Layering.
SolusOS handles all of the bells and whistles in the affects options such as 3D Windows, Cube Gears, blurs and animations. You can get the Compiz effects in some other distros if you run the KDE environment. But then you give up the classic Gnome 2 appearance and ease of performance.
Bottom Line
SolusOS is a beginner friendly desktop based on the latest stable release of Debian GNU/Linux. It features a GNOME 3 fork that has the look and feel of the classic GNOME 2 interface.
It has a good selection of default applications for typical personal and business tasks with updated software applications from Debian back ports and its own repositories. But it ships with absolutely no games. So if you want to play even Solitaire, your first stop will be the Add/Remove Software panel.