Sprint is adding another Android phone to its lineup — the Samsung Moment.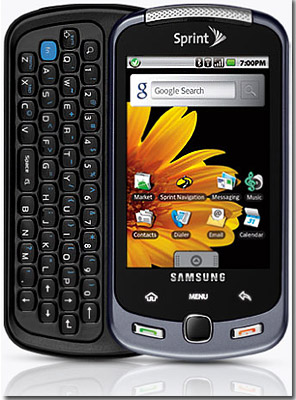 Samsung Moment
The Moment, which has an 800 MHz CPU, will be available from Nov. 1.
Meanwhile, Gartner predicts that Android installations will surge, putting it in second place after Symbian by 2012.
About the Samsung Moment
The Moment runs Android 1.5 Cupcake. It has a 3.2-inch AMOLED screen, which is slowly becoming the norm for the newest high-end mobile phones. AMOLED, or active-matrix organic light-emitting diode technology, enables bright, ultra-thin displays.
The device has a slide-out touch QWERTY keyboard, an optical joystick located just below the display for device navigation, and built-in access to Google Search, Google Maps, Gmail and YouTube. The Moment also has stereo Bluetooth 2.0, WiFi, an accelerometer and integrated GPS navigation.
"The Samsung Moment looks like a good slider, which will appeal to texters," Ken Dulaney, a Gartner vice-president and distinguished analyst, told LinuxInsider. "It will compete against the Palm Pre."
For photo buffs, the Moment has a 3.2 megapixel camera with flash and a camcorder with autofocus built in. Users can customize multiple home screens with Android apps, shortcuts and widgets. The device's memory is expandable up to 32GB.
Users get access to visual voicemail. An ActiveSynch feature offers access to corporate e-mails.
Reports have suggested that the Moment was originally part of the Samsung Instinct line, but Samsung spokesperson Brett White denied that. "The actual market name is the Samsung Moment," he told LinuxInsider.
"The Moment is a good step up for Samsung from the Instinct, which was a proprietary OS, and was difficult to build developer support for," 451 Group analyst Chris Hazelton told LinuxInsider. "Running on Android, there is already a developer base in place, and it is growing."
The Moment will cost $179.99 after a $150 rebate. Customers who buy the Samsung Moment can use Sprint's Any Mobile, Anytime feature, which offers unlimited calling to any wireless customer in the United States on any carrier at anytime. They need to sign up for a pricing plan offering unlimited data, which includes the Everything Data and Simply Everything Plans.
Sprint and Android
The Moment will be the second mobile phone in Sprint's Android lineup. The first was the HTC Hero, which will cost $179 after rebates and contracts.
The Hero will be available from Oct. 11. Like the Moment, it will run on Sprint's EVDO Rev A 3G network, and many of its features are similar to those of the Moment.
Sprint is banking heavily on Android to improve its fortunes. "For Sprint, the Moment means they have two Android phones, which highlights their interest in using Android to compete with the iPhone," the 451 Group's Hazelton said. Sprint is also hoping the Android devices help stave off further subscriber losses by letting it match upcoming Android devices from T-Mobile and possibly Verizon, he added.
Sprint recently launched new tools on its developer Web site designed to help devs create applications for its Android devices. It will have sessions on Android at its ninth annual developer conference, to be held Oct. 26-28 in Santa Clara, Calif.
Banking on Android might work for Sprint — Gartner predicts that Android will surge ahead to claim a global market share second only to Symbian by 2012, Dulaney said.
That would put it ahead of the iPhone, RIM's BlackBerry platform and Windows Mobile.
"Android will surge primarily because, unlike Apple or RIM, it has multiple supplies and some of the top manufacturing by volume," Dulaney explained.