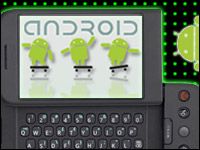 While apparently iPhones rule the mobile ad marketplace, Android phones are making rapid headway and could soon overtake BlackBerry devices.
Mobile adverting marketplace AdMob on Thursday released a report indicating that 40 percent of the devices accessing its mobile ad network are iPhones.
However, Android users accessing its network are increasing rapidly in North America and Western Europe.
AdMob's Report
AdMob's August 2009 Mobile Metrics report states that iPhone users accessing its network worldwide have increased from 33 percent to 40 percent in the last six months. iPhone users have a substantial share of the market in all regions except Asia and Africa.
The company based its statistics on the number of requests received from operating systems rather than on the number of handsets using that operating system.
While it counts iPhones and smartphones using other operating systems, it does not include the iPod touch.
The report also states that Android users accessing AdMob's network are increasing rapidly in North America and Europe.
Android users accessing AdMob's network worldwide increased 17 percent month over month, and Android now has 7 percent of the global market.
Overall, worldwide requests for mobile ads increased 9 percent month over month to total 10.6 billion in August.
AdMob's network consists of more than 9,000 publishers and 3,000 applications worldwide.
Android to be a Player?
AdMob said iPhones accounted for 50 percent of smartphone usage in its network in August. RIM was second with 14 percent, and Android third with 13 percent.
Android smartphones may account for a bigger share of AdMob's usage statistics in time, said Julien Blin, principal analyst and CEO at JBB Research. "Advertisers are looking at Android phones with increasing interest, and several U.S. carriers have said they'll offer Android smartphones," he explained.
"Also, a bunch of handset vendors will launch Android smartphones in the U.S. this year and next year," Blin told LinuxInsider. "I think the market's going to keep growing for Android."
AdMob market share is a measure of relative mobile Web and application usage and does not represent handset sales, the company said. Judging from AdMob's figures, Android smartphone owners' usage of the Web is high, Blin said. "Android phones actually have only four to five percent of the U.S. market, and they account for 13 percent of usage of AdMob's network. That's interesting."
Mobile Ads are Increasing
Driven by improved mobile browsing capabilities and engaging applications, smartphone operating systems such as the iPhone OS, Android, and Palm's webOS have gained market share over legacy platforms over the last six months, AdMob said.
AdMob has an iPhone App Exchange that lets developers advertise other iPhone apps within their own apps if the other apps are also part of the AdMob network. In turn, they can have their own apps promoted within other apps.
In August, AdMob acquired AdWhirl, which let iPhone app developers pick which ad network will sell their ad inventory. AdMob said it would expand AdWhirl's exchange product.
Could the company be planning something similar for Android apps? Attempts to reach AdMob failed because company representatives are offsite today, Mark Levin of public relations agency OutCast Communications, told LinuxInsider.