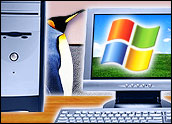 New research by a pair of Harvard University academics suggests that Linux will never be able to displace Windows based on the simple economics of Microsoft's head start and its continuing ecosystem advantages.
In a paper titled, "Dynamic Mixed Duopoly: A Model Motivated by Linux vs. Windows," Harvard Business School researchers Ramon Casadesus-Masanell and Pankaj Ghemawat argue that even if Linux achieves technical superiority and reaps the benefits of open source software development — where source code is available and rapidly advanced by users and developers — Windows will still be on top.
The paper's authors concede it will be no small task for Microsoft to remain the dominant computing platform provider, but they also contend that even Windows piracy contributes to Microsoft's advantage, and that the software giant will always be able to lower its prices to maintain an edge.
Microsoft's Moves
Even with Linux's lower initial cost and development advantages — described in the paper as "demand-side learning" — Windows will maintain its hold on the computer server market, the researchers maintain, as Microsoft continues to enjoy a legacy hold on not only computing users, but also the larger industry and ecosystem that has developed around Microsoft's platform and applications.
The paper's authors credit Microsoft for its maneuvering in response to Linux, which has quickly ascended to a prominent position in the server market since introduced in the 1990s. To stem its losses and minimize Linux gains, the authors argue, Microsoft has succeeded in "embedding irreversibility in the form of sticky resources."
"Thus, Microsoft Windows' persistence exceeded our pre-analytic intuitions because of the effects of Microsoft's strategic management of its position relative to Linux," wrote Assistant Professor Casadesus-Masanell and Professor Gehmawat.
Tremendous Inertia
The projections included in the report were based on simple market and economic factors, according to the researchers. The study does not factor in other potential impacts.
Analysts' reaction to the report was mixed, with some admitting to the strength of Microsoft's hold on the market.
"Essentially, the most important thing to business customers is compatibility," Endpoint Technologies Associates President Roger Kay told LinuxInsider. "It's going to be compatibility not only with their business and their customers, but also compatibility with their history and their business customers' history.
"There is tremendous inertia holding Windows in place," Kay added.
Single Platform
Others challenged the researchers' study for its suggestion that a single platform in the form of Microsoft's computing monopoly might benefit the larger industry.
IT-Harvest Chief Research Officer Richard Stiennon strongly disagreed with this contention, pointing out that Microsoft did not invent the browser or word processing, and indicating a belief that Redmond achieved its current position by acquiring and eliminating competition "by force."
The Harvard paper fails to anticipate the next major seachange in computing, he told LinuxInsider.
"I would support their reasoning, but only if you believe the world stays the same. There will be a revolution and Microsoft will not lead it," he remarked.