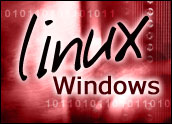 The latest customer survey comparing Linux and Windows servers crowns the open source operating system the winner, but tips some ease-of-administration advantages to Microsoft.
Results of the Research and Markets survey, which did not specify any particular Linux distribution or Windows server version used among its 137 respondents, indicated that Linux was "somewhat better" in terms of security, reliability, flexibility, scalability and total cost of ownership (TCO).
Windows, however, won a "somewhat better" assessment in terms of ease of initial installation and ongoing administration. It earned a "much better" grade for availability of skilled support staff.
Mixed Environments
Research and Markets reported a range of "intensity of the opinions" among survey respondents. Its sample included system administrators experienced with both Windows and Linux.
The survey highlighted how both operating systems are increasingly being leveraged in areas where they are strong; as such, heterogeneous IT environments are on the rise.
"There is no single operating system that is the right choice for every organization and every application," the research firm said in its survey results report. "Many organizations find that the best approach is to run multiple operating systems. Linux and Windows are only two choices — there are many others."
Survey results indicated increased parity among the two server operating systems — with Linux gaining on installation ease and support, and Windows improving in terms of flexibility. At the same time, the data marks a change in how IT administrators are viewing the server operating system challenge, according to Interarbor Solutions Founder and Principal Analyst Dana Gardner.
"It's not Windows and Linux," he said. "It's Windows, Linux and 'my applications.' Increasingly, the comparison and cost-benefit analysis is much more involved with economics, the organization's legacy or history or install base, and the overall operations side."
Evolving Comparison
Linux and Windows have typically been compared on technical bases such as security and support, but the matchup now is measured more by economics and integration with existing architectures, according to Gardner.
"We've moved from a discussion about technical requirements to a discussion of what's the right fit and what are the economic issues I'll face," he told LinuxInsider.
Though both Windows and Linux are enjoying growth in the enterprise server market, they are challenged by the increasing complexity of computing architectures, as well as integration among numerous types and versions of various systems, old and new.
"The discussion is not really which platform, but which architecture," he said. "It shows a level of parity. The differences are not as major as they used to be."
Seeking Flexibility
The use of Linux or Windows for specific application architectures or requirements, and the use of both operating systems in mixed environments, are also helping to drive the trend toward providing software applications as a service, rather than code that is downloaded or read from a disc, Gardner added.
Extremely cost-conscious customers may favor Linux if they're looking for scalability and strong security, he said. Linux systems can also offer more flexibility than Windows, which could also work in Linux's favor in some cases.
Microsoft's security woes are not going to go away, particularly with older installations, but that company has done a good job of making Windows more integrated, simple and complete, Gardner opined.
No Inside Edge
Gartner Vice President George Weiss agreed. A few years ago, there was a high perception among IT buyers that Linux was the more reliable, secure, and less expensive, but that is becoming less of a factor as Windows becomes more scalable, secure and reliable itself, he said.
Linux may be free to obtain, but it costs money to support and maintain, and firms have realized this, Weiss said. Still, Linux remains attractive to many organizations that refuse to be dominated by a single vendor, he told LinuxInsider.
In most cases, the comparison between Linux and Windows servers today comes down to how the two different platforms will perform in specific jobs, such as an applications server, Web server, database server or in server consolidation, which continues to grow with virtualization technology, according to Weiss.
"It's sort of a free-for-all with regard to what will happen in the future," he said. "I don't think there's any inside edge between the two of them right now."
The good news for IT shops is that the choice of operating system is not a grave a decision anymore, thanks in part to virtualization and other technologies that ease management and maintenance of different operating systems, said Interarbor's Gardner.
"The platform penalty they pay is quite a bit less," he noted.
This is also helping software developers, by allowing them to work on an organization's IT framework and applications without worrying so much about which platform will be used.
"The relationship between application and platform has been sort of freed up," Gardner concluded.