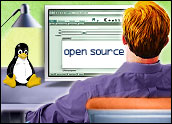 Microsoft andNovell this week touted results of a recent survey — sponsored by both companies — indicating that nearly all IT customers at large organizations overwhelmingly approved of their Windows-Linux interoperability and patent protection deal.
Of 201 survey respondents whose organizations have deployed Windows, Novell's Suse Linux orRed Hat Linux, 95 percent approved of the Microsoft-Novell partnership. Another 87 percent said that they believed customers would benefit from improved interoperability between Linux distributions and Microsoft.
However, other recent customer surveys indicated a greater degree of reservation and even resistance to the partnership, Gartner Research Vice President George Weiss told LinuxInsider.
In a survey conducted by Gartner, the results showed "a higher level of distrust. To a lot of users, if there's no proof in documentation, product capabilities or a road map, they're reserving judgment or skeptical," he said.
Survey Says
Microsoft and Novell — which engaged the firm of Penn, Schoen & Berland to conduct the survey of organizations with at least 500 PCs — said the results validated theirstrategy, which centers on interoperability and patent protection.
"This survey supports our belief when we entered the agreement with Microsoft: Collaboration on behalf of the customer is a winning proposition for all parties involved," said Novell Vice President of Global Strategic Alliances Susan Heystee.
There was also strong support for work between Linux vendors and Microsoft, and 67 percent of respondents said they were more likely to consider Suse Linux after learning of the Microsoft-Novell deal, according to the survey.
Results Please
Some of the wording in the Microsoft-Novell sponsored survey was suspect, said Weiss, describing it as "telling" of a search for positive responses.
"The tone of responses to [the Gartner] survey was 'prove it to me' or 'I'll believe it when I see it,'" he said.
What about survey respondents who did not respond positively when questioned about increased and improved interoperability? asked Illuminata Senior Analyst Gordon Haff.
Although the open source community has been vocal in following the Microsoft-Novell collaboration and patent agreement, the general IT industry population has not yet delved into or weighed in on the partnership, Haff told LinuxInsider.