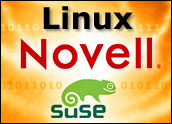 Novell is undergoing a massive personnel shakeup that continues to unfold. The latest change in corporate management is SuSE Linux founder Hubert Mantel's resignation.
Mantel reportedly announced his resignation on Tuesday via an e-mail to a SuSE mailing list. The chief maintainer of the SuSE Linux kernel reportedly wrote that he could no longer work for the company.
"This is no longer the company I founded 13 years ago," Mantel wrote. This information could not be independently confirmed at the time of publishing.
Novell acquired Nuremburg, Germany-based SuSE Linux in January 2004.
Corporate Culture Schisms
Mantel was not the first to leave SuSE in recent weeks. Interarbor Solutions Principal Analyst Dana Gardner told LinuxInsider that sources inside Novell told him Chris Schlaeger, vice president of research and development for SuSE Linux, was recently fired because he had strong views on the direction the software.
"SuSE was pure KDE. Ximean, which was bought by Novell earlier, is based on the Gnome interface," Gardner said. "So apparently there's an indication now that Novell is siding more with Gnome and will perhaps be moving away from KDE. That prompted some of these personnel issues."
Corporate culture schisms could also be partially to blame. Gardner said when Novell bought SuSE the company bought a culture as much as it bought a code base.
"There are some indications now that the Novell culture is exerting its influence over the SuSE culture," Gardner said. "It will be interesting to see whether there is any resulting exodus of developers and R&D people from the SuSE community and whether these departures are a harbinger of a larger cultural mismatch going on there."
Musical Chairs
Mantel and Schlaeger are not the only personnel changes at Novell recently. On October 31, Novell's board of directors promoted Ron Hovsepian, executive vice president and president of global field operations, to president and COO of Novell.
The company said the promotion will further focus Novell's efforts on meeting the needs of customers on a global basis. Hovsepian now has direct worldwide responsibility for product development, marketing, and field operations, which includes sales, consulting and technical services.
Corporate Layoffs
Then on November 2 Novell announced it would concentrate its business on key growth opportunities in the Linux and open-source and Identity and Resource Management markets, resulting in a restructuring of the business that will reduce annual run rate expenses by more than $110 million.
Novell said it anticipates that it will record a restructuring charge in the range of $30-35 million in the fourth fiscal quarter ended Oct. 31, 2005. The restructuring meant laying off 600 workers.
Novell chairman and CEO Jack Messman said the cost restructuring initiative is part of the comprehensive transformation of Novell's business that the management team has been designing and implementing over the past year.
"While it is a difficult decision to eliminate positions in our talented and dedicated workforce, this move is necessary to ensure that our costs are more closely aligned with our business strategy," Messma said. "This is a decisive, yet disciplined, cost reduction action that balances the need to be fiscally prudent with the need to continually seek growth opportunities and generate long-term profitability in a highly competitive marketplace."
Good Day for Microsoft
Gardner said in some way you might say it's a good day for Red Hat and Microsoft when so many doubts and issues become public.
"There's a lot of pressure from investors for Novell to start making some revenue around their Linux strategy," he said. "So it seems like this is just another indication of some internal turmoil and it bears watching as to whether this is an isolated incident or whether there is a larger schism afoot."