Toshiba has announced its own entrant into the tablet market with the Folio 100, which will run on the Android 2.2 operating system. Sporting a screen just over 10 inches, the device will be larger than other early competitors to Apple's iPad tablet computer, such as the Dell Streak.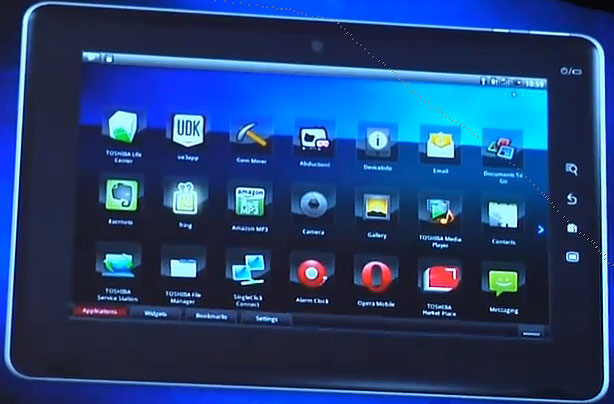 Toshiba's Folio 100 Tablet
The Folio will debut in late October in Europe as a standalone device with WiFi capability.
Depending on individual market conditions in European countries, said Toshiba, it will retail for prices that cluster around US$500, give or take.
At its launch, the Folio will not have a mobile carrier connection, according to an announcement made at the IFA 2010 consumer electronics fair in Berlin by Toshiba's head of marketing for digital products in the European, African, and Middle Eastern markets.
However, a 3G version will be offered either in late 2010 or early 2011.
Tablet vs. Smartphone
It actually makes sense to view any tablet computer as a mobile device used primarily over WiFi networks, Greg Sterling, principal of Sterling Market Intelligence, told LinuxInsider. While researchers continue to gather data about exactly where and how much customers use tablets, anecdotal evidence suggests that they surf the Net with their mid-range devices mostly at home or in locations where WiFi is readily accessible, such as college campuses or corporate buildings.
This is quite a different device category than even the most powerful of smartphones, Sterling pointed out. Customers who are especially budget-conscious right now and leery of additional financial obligations are unlikely to take kindly to adding a mobile carrier fee to an existing contract or establishing a relationship with a new carrier. For its part, Toshiba has not revealed which mobile carrier will provide 3G service for the future version of the Folio, either in Europe or in the U.S.
Bring on the Apps
Toshiba announced the launch of its own app store along with the device. Whether Folio users will be able to download apps from the Android Market remains unclear.
"Samsung worked on a set of apps for the Galaxy — around 200 — to have at launch, Carolina Milanesi, vice president with Garnter, told LinuxInsider.
"It would be a mistake for Toshiba not to leverage the Android Market, but there is no harm in adding its own app store," she said.
In many ways, though, apps are far less crucial for a tablet computer than for a smartphone, Sterling asserted.
Where using a full-featured browser is slow or cumbersome — on a smartphone, that is — specialized apps are convenient and provide much-desired functionality. On a tablet that can provide a full browser experience over WiFi, these specialized programs become more nice-to-have and less must-have.
iPad Analog
Both the price point and the specs of the Folio make it comparable to the market-making tablet, the iPad. A touch display, 16 GB of onboard storage, Bluetooth, and mini-HDMI plus USB ports all are standard.
In this respect, it is Samsung's new Galaxy tablet that diverges more from the early leaders, Rob Enderle, principal with Enderle Group, told LinuxInsider.
However, in contrast to Apple, "Samsung has a really bad reputation with developers," Enderle asserted.
This may be a reason why the company has decided to take its tablet launch to Europe. Another reason may be that mobile carriers tend to make fewer restrictions in agreements with device providers, he offered.
Both the Galaxy and the Folio are "good alternatives to the iPad," Enderle said.
In fact, they may be better alternatives in Europe. Either way, he added, this group of three tablets "showcases the battles that are clearly to come."