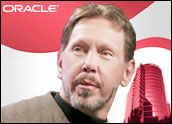 Oracle's proprietary posture may have soiled the welcome mat and vilified its good standing in the FOSS community as CEO Larry Ellison has pushed the balance point between servicing his customers and nickel-and-diming them to turn a higher profit. Clearly, since Oracle acquired Sun Microsystems — and with it OpenOffice and Java — the company has not acted very neighborly with open source developers.
Between its handling of OpenOffice and its lawsuit against Google over Java technology, Oracle may be well on its way to becoming the "new M$" in the eyes of the FOSS community. While Oracle's public statements assert that Linux is key to its business future, its actions suggest otherwise.
Given all the teeth-gnashing directed at Oracle, the company may soon find that in the open source community it is seen as nothing more than a villain. If that hapens, Ellison may have to scramble to not remain the new enemy inside the FOSS gates.
"Overall, Oracle's support of the many open source software projects it inherited with its acquisition of Sun Microsystems has been lackluster," Jay Lyman, Senior Analyst for Enterprise Software at The 451 Group, told LinuxInsider. "How the company is perceived, as well as its opportunity among open source software developers and users, will continue to depend on Oracle's approach to open source software projects and communities."
Setting the Scene
Oracle acquired Sun Microsystems in January 2010. That gave Ellison and company control over several key open source projects that were essentials for enterprise customers.
A key open source essential that came to Ellison and company is MySQL. It is one of the most widely used used SQL database management systems. Oracle also gained control of the OpenOffice.org business suite that offers a free alternative to the commercial Microsoft Office. OpenOffice is a derivative of Oracle's proprietary StarOffice suite discontinued in 2010.
After Oracle acquired Sun Microsystem's OpenSolaris, Ellison and company swapped it for Oracle Solaris 11. One more open source gem Oracle acquired from Sun Microsystems is the Java software ecosystem.
For companies and product developers that use Oracle's server hardware and open source software, tech service contracts and customer service agreements have hefty price tags attached. Oracle has more aggressively pursued pricing its support services since acquiring Sun Microsystems.
Scathing Unrest
"Oracle has done a lot of server and support charge increases. The first thing they did was price change, and they did not grandfather in existing customers until renewal," Laura DiDio, Principal at ITIC, told LinuxInsider.
One of the big impacts of this action is that Linus Torvalds' intent for free and affordable software is being subverted by tech support, she noted.
Each month, DiDio surveys user responses to issues involving tech support and company satisfaction. She focuses on hardware and software concerns of respondents. The detailed written replies in the surveys tell a daunting tale. It shows an alarming level of customer frustration with Oracle.
Walking Responses
One sign that enterprise customers are more than unhappy with the way Oracle is treating them is the apparent number of customers who decide to go elsewhere. That can only give open source companies in general a black eye.
"As a result [of the price hikes and Oracle's customer treatment], I am seeing a lot of defections from Sun products," she said. "They aren't saying don't charge for the services. It's the manner in which it is being done."
In a bad economy such as we are now experiencing, is it good business to chase old customers away and charge new ones more money? That might only work if open source users had no place else to go.
"It's no secret — and Oracle's latest financials bear this out — that the installed base of Sun customers are defecting at an alarming rate," Sean Doherty, a vice president of Oracle competitor EnterpriseDB, told LinuxInsider.
Ugly Big Picture
A rippling effect adds to the Oracle discomfort level for some companies caught in the middle. Doherty gets an earful from his customers.
Ever since Oracle acquired Sun Microsystems, his customers and partners have asked what his company thinks about Oracle's moves into the FOSS community. The questions often focus on Oracle's track record of acquiring several companies over the years that either sponsored or actively contributed to many open source projects.
"Oracle's message to the world is that they are committed to offering choice, flexibility and lowering costs by using and promoting open source software. Their actions are not consistent with this stated mission," Doherty told LinuxInsider.
Misplaced Allegiance
Even before the acquisition of Sun, while Oracle worked on certain community projects, it did so with two big elephants in the room, Doherty said.
One was that Oracle's work pigeon-holed the project to be used narrowly and leveraged the project's ability to help Oracle really sell more of their proprietary solutions, he said. What happens more often is that projects are stopped, he added, making reference to the open source HTC Project as well as OpenSolaris and fears about stopping MySQL.
"Oracle has become one of the largest software companies in the world, and they didn't do it by supporting FOSS. Oracle's tactics are known around the world: sell high cost licenses, bring in aggressive sales and audit teams enforcing use and true-ups at renewal time, etc.," said Doherty.
Recurring Attack
Doherty minced no words in expressing his frustration with Oracle's "antics." His views reflect similar comments that DiDio sees frequently in her monthly user satisfaction survey mentioned above.
"Even if we agree that their tactics are 'fair,' because in fact, if you use their software you should pay, it doesn't change the fact that this practice completely flies in the face of FOSS," said Doherty.
Adding insult to injury, he said that a related consideration is the slower time for innovation of proprietary software and the control Oracle has over when it will fix your support issues.
How Big an Increase?
The cost of basic support is now much higher. The more support needed, the higher the package deal, explained DiDio.
For example, Oracle has doubled the price for standard customer support to $2,000 per server. At the high end for MySQL support, that price doubled to $10,000 per server, she said.
In addition, service contracts now have longer response times. Maintaining the old standard of responding to a tech support call in four hours is still available but at a higher contract cost, said DiDio.
A shell Game?
What is also significant is how Oracle applies its higher costs to its customers, noted DiDio. For instance, the company starts charging as soon as it ships ordered hardware. The normal practice is to begin charging fees when the customer actually turns on the hardware.
Another questionable billing practice involves the level of support contracted. For example, features in various MySQL packages are different based on what support level you are buying, said DiDio.
Some support options, such as pre-existing life cycle support, no longer exist, she noted.
Even Worse
"Add-ons to existing contracts no longer are grandfathered in. So costs continue to climb. Plus, you can't cancel," said DiDio.
Another push point, according to DiDio, is pressure applied at the point of purchase. For example, if a customer does not purchase a service contract when buying new hardware, Oracle charges a reinstatement cost of 150 percent of the standard support price.
Responses to the Rate Your Satisfaction portion of the monthly survey show Oracle behind all other companies by as much as 16 percent, said DiDio.
LinuxInsider sought comment from Oracle officials. We sent written requests for interviews and asked for a dialog on how Oracle sees itself as a member of the open source community. After several weeks, we received no response.
Comeback Possible
It still is not too late for a turnaround. Despite the animosity some customers and open source developers feel toward Oracle, the company still has a chance to be better welcomed in the FOSS community.
"Oracle has some standing in the larger Linux and open source software community for its contributions, which include substantial Linux kernel work, file system technology and first-class enterprise database support," encouraged Lyman.
Some software, such as Java and MySQL database, has progressed under Oracle's watch, he explained. But these projects have diverted from their previous open source community and direction in favor of enterprise business and Oracle technology.
Is there a place for Oracle in the open source community? Of course there is, contends Doherty. There is always a place for companies and individuals in the FOSS community. One big first step is for Oracle to start mending fences, he noted.
"FOSS is less than pleased with Larry Ellison and his firm these days. This is mainly due to the fact that Oracle has been extremely vague with respect to a specific product road map for MySQL, OpenOffice and Java," said Doherty.
How Oracle is perceived, as well as its opportunity among open source software developers and users, will continue to depend on Oracle's approach to open source software projects and communities, added Lyman.
Final Thoughts
Oracle has the funds and smart folks working there. Plus, the company offers such an array of products to definitely leverage the benefits of open source software to help the bottom line, suggested Doherty. But the company has adversely affected its credibility with the open source community. This has to be fixed, he said.
"The only way to fix that damage is for Oracle to show, over time, that they are actually concerned with technical innovation and sharing that innovation with everyone," he concluded.
I think some questions and uncertainty continue to surround such projects and that contributes to some negative sentiment of Oracle among free and open source software supporters, added Lyman.
Still, its participation in Linux kernel and other technology development, its membership in The Linux Foundation and its position as the steward of Java and other open source technology all mean Oracle does have a place in today's open source software community, he said.