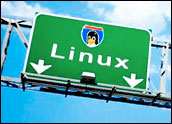 Some 204 million mobile phones, or 14 percent of the world market, will be running on Linux by 2012, according to a report released this week from the London office of ABI Research.
"Linux in the cellular phone is not a question of if, but when," declared ABI Research Director Stuart Carlaw.
Developing market conditions are boosting Linux's attractiveness to mobile handset makers, according to an executive summary of the ABI report.
"The aggressive declines in handset ASP (average selling price) have led many OEMs (original equipment manufacturers) and carriers to re-evaluate not only the silicon costs involved in producing devices but also to focus on the cost of the software element associated with the products," the summary said.
Attracting Cost Watchers
Linux is attractive to cost watchers because it isn't burdened with the overhead associated with commercial operating systems, argued Ross Rubin, director of industry analysis for the NPD Group.
"An obvious advantage is the freedom from licensing fees that someone like Microsoft or Symbian might charge," he told LinuxInsider.
As selling price declines, the margins that OEMs can realize from the devices decreases, ABI's Carlaw explained to LinuxInsider. "There is a concerted effort to squeeze as much value out of devices to maintain profitable margins, this includes the OS," he added.
Fleeting Interest?
However, handset makers have less to say about what goes into their phones today than they used to have, asserted Bob Egan, a mobile industry expert with the Tower Group.
"We've gone from a market where the handset manufacturers were dictating to operators on a worldwide basis what the characteristics and the look and feel of the phones were to a market where the operators are creating the demands for what the phones are," he told LinuxInsider.
"I just don't see an overwhelming amount of demand being created by the mobile operators for Linux," he continued. "There's some fleeting interest in it, but I just don't see an overwhelming demand being created out there."
Barriers To Growth
The ABI report identified four major barriers to the widespread adoption of Linux in mobile units:
Latency and memory. Although 2007 will see the introduction of Linux to single-chip devices, the report said, latency and memory issues will not be fully resolved until after 2008.
Fragmentation and standardization. The market has begun to coalesce around a common notion of what Linux should look like in the mobile environment, although it is unlikely that any real de facto solution will emerge until 2009, the report noted. Until that point, the market will be fairly subdued.
Competition and OEM agenda. These items are highly linked, especially through the relationship of mobile operating system maker Symbian and Nokia. That relationship limits the market for Linux, since Nokia has 56 percent of the smart phone pie.
Design cost and lack of familiarity. This bottleneck will only be a short-to-medium barrier to growth, the report maintained, because the industry is becoming more enlightened to the practical considerations of implementing Linux in mobile devices.
Promising Developments
Two recent events that show Linux is making inroads in the mobile ecosystem, said Rubin of NPD.
Symbian has announced it is supporting tools that will make it easier to transport applications written for the Unix operating system to Symbian's OS, he noted, and Palm, maker of the popular Treo line of smartphones, is working on migrating its operating system to Linux.
Palm may be able pump new life into itself by raising the bar in the smartphone market with a Linux-based phone, Egan, of the Tower Group, observed. "That could become a very important potential milestone for Linux," he reasoned.
The Linux market in mobiles is still in its infancy, Egan explained, and while there are great expectations in some quarters about its mobile future, the verdict is still out on whether those expectations can be met.
"It's like Linux on the desktop — lots of expectations about the desktop that never came to fruition," he contended. "There's been lots of talk about Linux on mobile phones, but it hasn't met the expectations that were set for it three or four years ago."