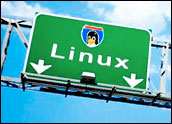 With its mix of capability and flexibility, often at a lower cost, Linux continues its aggressive growth in the enterprise server market, according to new research.
A survey of nearly 400 IT developers and professionals indicates that use of Linux in at least some servers is still on the rise, reportsEvans Data.
While Linux servers represent about US$8.3 billion of a $53.6 billion server shipment market today, the open source operating system will rise to an estimated $12.4 billion share of a $57.5 billion market by 2011, Gartner Research Vice President George Weiss told LinuxInsider.
Windows, which will hover around $20 billion during that time, also continues to grow, but not as rapidly as Linux.
Linux by Leaps
There are several factors leading enterprises to replace Unix servers with Linux — primarily performance, scalability, open standards-based flexibility and cost, Evans Data President John Andrews told LinuxInsider.
"We see use across the network edge servers, infrastructure servers and business application servers and finally data/content servers," Andrews said, indicating that Linux is maturing and now handling more mission-critical workloads for businesses.
While 65 percent of Evans' survey respondents indicated they were running Linux a year ago and 67 percent did so six months ago, the figure rose significantly to 73 percent more recently, according to Evans.
Better Use
Linux is making deeper inroads into enterprise IT with more maturity for critical business workloads, noted Andrews.
He also indicated that IT managers and system administrators are benefiting from their increased familiarity with Linux, which also has a larger ecosystem around it now.
"We are continuing to see more and more enterprise IT managers make better use of Linux, integrating it into their heterogeneous environments where it makes the best business sense," he observed.
Evans' research, which is based on a three-year planning horizon, suggests the growth trends for Linux will continue, Andrews added.
Not Alone in Datacenter
Windows servers are likely to continue to grow right along with Linux server shipments, and Microsoft's next server technology in Longhorn will be competitive, Weiss predicted.
Where Linux stands to gain the most, he noted, is in clustered, high performance computing (HPC) and grid environments where Unix has been present and Microsoft has not.
Grid computing is on the rise, Evans indicated, with 15 percent of survey respondents reporting current grid computing strategies, up from 10 percent six months ago. Evans said a third of enterprise companies either have a grid in place or expect to implement one in the next year.
Some customers are sticking to Unix for their larger enterprise servers and applications, Weiss added, but Linux is an ever-present alternative for those deployments as well.
Mainstream Maturity
The climb of Linux to larger, more mission-critical applications in enterprises is not surprising, suggested Illuminata Senior Analyst Gordon Haff. Linux has actually grown up with evolving software and server architectures, he explained.
"Linux, for the most part, is growing into new styles of applications and infrastructure," he told LinuxInsider — notably those used by the likes of Amazon, eBay and Google. "Any one of those could, and do, use Linux for a considerable part of their mission-critical business."
Declaring Linux "mainstream," Haff said the open source operating system is well established and continues to grow, bringing along its ecosystem as well.
"Certainly, there's been a mainstreaming of Linux skills," he said. Some back-end databases and other servers still tend to be Unix, he acknowledged, but Linux is displacing at least some of those servers, too.