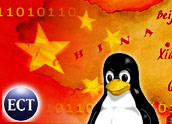 Japanese Linux vendor Turbolinux last week announced a couple of big deals in China, as the company looks to take advantage of China's pro-open source government backing and the replacement of SCO-Unix servers in a Turbolinux bid for market expansion.
Turbolinux said Qinzang Railway, part of China's Western Development strategy, would begin using a complete Turbolinux server system for its infrastructure and management of a luggage and parcel e-government system beginning July 1.
The second deal is a Turbolinux server use by China Mobile's Wireless Music Portal, which will also call on Turbolinux high-availability (HA) load balancing cluster, Turbolinux Cluster Software, and IBM server technology based on Intel's Xeon processor supporting 8-16 central processing units (CPUs). That launch is just in time for the 2006 Chinese New Year Spring Festival from China Central Television (CCTV), according to Turbolinux.
"These projects demonstrate an important market expansion for Turbolinux," said company Chief Executive Officer and President Koichi Yano.
Enterprise and Entertainment
The Turbolinux market push is focused on taking advantage of the tremendous growth in Linux adoption among China's e-government and entertainment services market, Turbolinux Vice President of Corporate Marketing Linda Arai told LinuxInsider.
"The Chinese government aggressively supports open source software and aims to drive the Chinese local software industry," Arai said. "Large-scale SCO-Unix replacement is another one of the key factors."
Other Turbolinux deals in China include e-government projects in the Shanghai Jing'an District, software for China's largest commercial bank ICBC, and Turbolinux deployment by Sichuan Province.
Larger Adoptions, Competition
For China Mobile, Turbolinux said it will support wireless service allowing users to download performances during the CCTV television festival. The Qingzang Railway deal, meanwhile, will provide high-reliability and availability in a consolidated digital infrastructure and operation management system.
Arai indicated that large-scale Linux adoptions in China are coming from organizations with business-critical computing, telecommunications and e-commerce application environments.
Along with the opportunities, however, come the challenges of competitors set on taking advantage of the same factors in China, she added.
"There are more Linux distro players in the China market compared with other markets, so there's higher competition," Arai said.
Right Fit for China
There is tremendous opportunity for Linux and other open source software in China, not only because of the government's support and ability to require the use of it, but also because of China's background in open, copied code, according to Interarbor Solutions Principal Analyst Dana Gardner.
"The fact that the software is open is amenable to their history," Gardner told LinuxInsider. "I expect to see a huge uptick for outside [Linux] distributions in China and for the open source model to be successful there."
Although he highlighted the potential opportunity for Linux and open source in China, Gardner also forecast a "winnowing out" of Linux distributions in the nation, where government and industry are unlikely to support many variations of the same open source Linux code base.
Asia Market Moves
Gardner also indicated that charging for services and support also makes sense in the Chinese market, which is resistant to code copying restrictions and licensing costs.
Turbolinux has already moved into the Chinese Linux market, including through a deal with U.S. giant HP to sell Linux desktops there.
The company's Arai said the Turbolinux market expansion effort was currently focused squarely on China.
Two years ago, the Tokyo-based Linux vendor deployed its open source operating systems across the country in a deal with the China National Railway System.
"We are committed to providing sate-of-the-art Linux operating systems in China," Yano said.