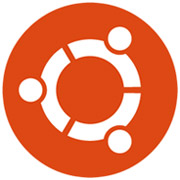 A new Ubuntu Linux desktop line — Ubuntu 14.04, known as "Trusty Tahr" — lacks much in the way of new features or eye-popping special effects. You will find, however, a fresh batch of improvements in what is already a solid distro family of desktop and server implementations.
Canonical continues its record of consistency with its latest version of Ubuntu, released this month. Consistency is usually a good thing, but after the last few Ubuntu releases, the repetitious ho-hum pattern of not much new on the outside is becoming a bit boring.
The good news is the Ubuntu family line includes considerable growth on the inside. Think of the Ubuntu distro for the desktop as being in a holding pattern.
The Canonical development teams are breathing hard from their endurance race to make the Ubuntu interface excel for tablets and smartphones. However, the developers are not giving much attention to innovations for desktop and laptop OS versions. Not much distinguishes Ubuntu versions 13.04 and 13.10 from version 14.04.
Of course, strides earned in Ubuntu's mobile releases eventually will be vetted in future releases for desktops and laptops. This is called "Ubuntu convergence." Canonical is developing an operating system with a common interface to run on all types of hardware and form factors.
More Maturity
This Trusty Tahr release marks the first time that all of the various desktop versions of Ubuntu — including Unity, Xubuntu, Lubuntu, GNOME and Kubuntu — will be maintained for long-term support status. Some for these desktop flavors will have support for five years. A few of them will see a shorter support period of three years.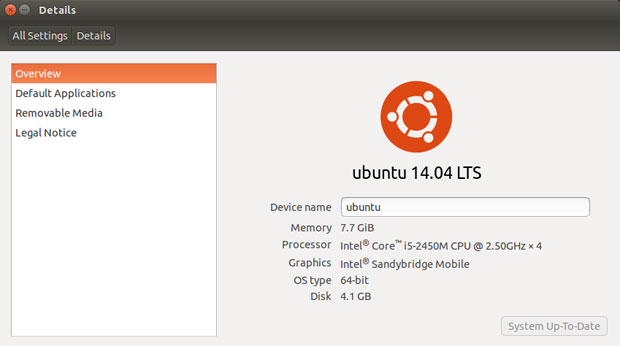 All Ubuntu 14.04 desktop versions have long-term support of either three or five years.
Canonical launches a new version of Ubuntu Linux every six months, but the Long Term Support releases usually arrive in two-years intervals.
A sore spot for me with the Ubuntu line is the delay in getting upgraded software packages into the distro's repository. Trusty Tahr is off to a great start in this regard. This release includes updated versions of most of Ubuntu's core set of packages. I especially like the newest versions of the Firefox Web browser and the LibreOffice suite.
This also means that all desktops come with the current 3.13.6 kernel version. Do not set aside upgrading to this latest release if you are committed to using the Ubuntu OS just because it will not have a shiny new look and feel. One of the advantages of upgrading is getting all of the newest drivers and kernel improvements.
Finely Finessed
What I experienced with the Ubuntu 14.04 Beta2 release in recent weeks gave me a new satisfaction with the Unity interface. It is nicely polished. Some of the behavioral anomalies of earlier Unity performance have been nicely smoothed over or outright fixed.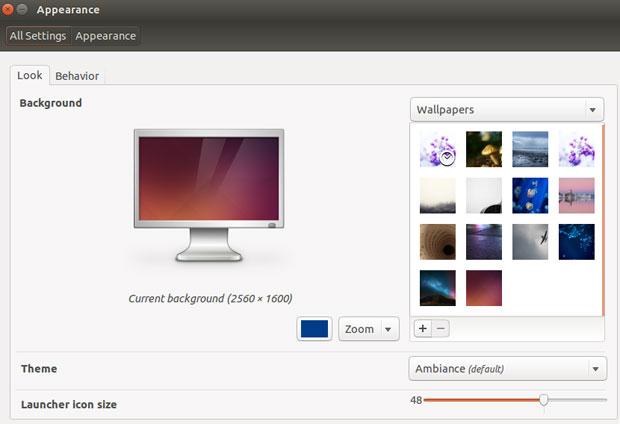 Ubuntu 14.04 has 12 new wallpaper images and a new default background.
I was an early adopter of the first versions of Ubuntu Linux before Canonical locked into the Unity desktop as the default version, but I never fully took to the often clunky Unity design and bounced around instead to other Linux options on my various work and test computers over the years.
Spit and Polish
It is not what you see that makes a nice impression about Ubuntu 14.04. It is what goes on under the hood. The few visual enhancements are very subtle.
One example is improved window resizing functionality. Windows no longer delay displaying their new shape until you finish dragging the corners. The reaction is much more like real-time resizing now.
Another example is Trusty Tahr's TRIM support for Intel and Samsung solid state disks. This produces a longer life cycle life for those storage devices.
Version 14.04 also has improved support for Nvidia Optimus graphics-switching technology. Also built in is better support for high-resolution displays.
Meaningful Makeover
Perhaps one of the biggest visual changes is the Application Menu options in the Unity desktop. It is a nice improvement to be able to decide where application menus appear.
For example, the menus by default continue to show in the top panel, but they do not have to stay there. You now can change that location on the screen by selecting the Local Menus option in System Settings / Appearance / Behavior.
Since I have not been a Unity desktop fan, I immediately appreciated the fix applied to Unity's window management display. It is nice to be able to minimize a running application by clicking on its icon in the launcher — but changing this behavior takes some work on your part.
For example, you must first add the Compiz Configuration Settings Manager or CCSM application through the Software Center. Then go to the Unity section and find the Launcher tab. Once there, check the box next to minimize on click.
New Likeable Look
The bulk of noticeable makeovers is centralized with the Unity desktop in Ubuntu 14.04. I see the whole Unity concept taking on a slightly clearer focus in this release. This probably contributes to my friendlier reaction.
For example, the Unity Launcher, Dash, Window Controls and Theme scale proportionally. So do certain icons and text. The Unity launcher can be scaled down to 8px.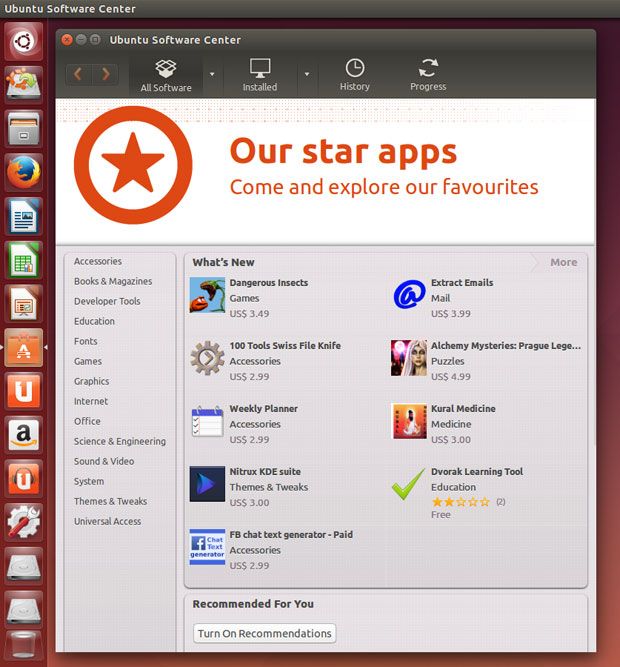 Ubuntu Unity 14.04's Launcher, Dash, Window Controls and Themescale proportionally.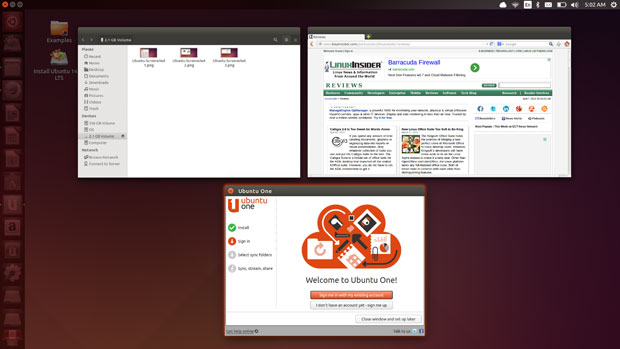 Use the Super + W keys to see the scale view in Ubuntu Unity 14.04.
This improvement may need some additional finessing, though. Some intermittent distortions in the parts of the interface are apparent.
Nice GNOME
Ubuntu's GNOME 14.04 interface might be the most disappointing patchwork of improvements. It has a three-year support cycle, but that might be a good thing.
Even with this general Ubuntu upgrade, GNOME desktop users will have to settle for version 3.10 of the GNOME-shell. The GNOME community did not release GNOME 3.12 by the Feb. 20 Canonical cutoff date for feature freezing Trusty Tahr, according to the Ubuntu GNOME team's blog.
However, Ubuntu's GNOME team could slide it into a later update, given the LTS nature of the Ubuntu 14.04 release. With that bad, however, comes some good. Many of the GNOME apps have been updated to GNOME 3.10. This includes gnome-weather, gnome-maps, gnome-photos and gnome-music.
Another upgrade of sorts for the Ubuntu GNOME release is evident in some of the default GNOME applications. For instance, patches to Rhythmbox, Gedit and the Terminal restore full application menus.
Bottom Line
If you are new to Linux or the Ubuntu Unity interface, the overall performance and polish will be all that matters. If you still are bothered by Unity's look and feel, be sure to try one of the other Ubuntu desktops.
The interface integration and the other desktop interfaces have a really smooth integration with Ubuntu's execution. That will leave no doubt about why Ubuntu is one of the leading Linux distros.
Is the accumulation of subtle polishing and finessing a payoff for making the upgrade to Ubuntu 14.04? That is something more seasoned Ubuntu users will have to decide.
Want to Suggest a Linux Application for Review?
Is there a Linux software application you'd like to suggest for review? Something you love or would like to get to know?
Please email your ideas to me, and I'll consider them for a future Linux Picks and Pans column.