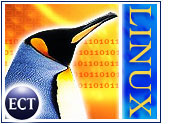 Veritas announced Tuesday that it has extended support of its storage management and clustering products to the Intel Itanium 2 platform on Red Hat Linux 3.0.
According to the company, Veritas is increasing its commitment to making Linux enterprise-ready with the move and is extending its Linux support to IA-32 and to Itanium architectures.
Ranajit Nevatia, Veritas' director of Linux strategy, told LinuxInsider that the company made the decision to support Itanium-based environments as a result of customer requests. He added that it made sense for the company, given Veritas' desire to support several platforms.
"We're Switzerland," he said. "We're very independent. We're known for supporting lots of different platforms and providing heterogeneous support, so this fits in well with the company."
Main Features
Veritas' extended support of its products comes in two flavors: the Foundation Suite and the Cluster Server. Foundation Suite 2.2 for Linux is available immediately with prices starting at US$1,500. Veritas Cluster Server 2.2 is also available now, with prices starting at $1,995.
The Foundation Suite offers optimized storage management for large, data-intensive environments. It also boasts the ability to work with many disk-array configurations and can perform on-the-fly maintenance and tuning of file systems.
Veritas noted that the suite comes with better GUI management across 32-bit and 64-bit platforms. It allows a company to make sure data is always available, Nevatia noted.
The Cluster Server features failover and disaster recovery over a LAN. It also eliminates the need for active or passive hot-standby redundancy. Veritas added that these features will help lower hardware costs.
One important aspect of the Cluster Server to note, according to Nevatia, is that it allows for creation of a traditional cluster environment with sophisticated failover ability.
Nevatia said the two products running in conjunction with each other will give customers a way to move toward highly reliable support and management.
Target Market
Nevatia noted that Linux and Itanium are making it possible for more companies to deploy 64-bit applications. However, some are moving toward the architecture more quickly than others, largely because Veritas still caters mainly to customers in the financial services and telecommunications industries.
Other industries have expressed interest in Veritas' new offerings, and Nevatia said these include government agencies and biotech firms.
"Basically, the applications the customers are running are connected to commercial and scientific computing," he said. "These tend to be situated in our traditional markets. That's where we're seeing the most traction."
Broader Linux Reach
With the announcement, both Veritas and Intel are hoping the extended support will give Linux even broader appeal than it already has.
Mike Ferris, product marketing manager for enterprise and desktop Linux at Red Hat, told LinuxInsider that having more customers migrate to Linux seems to be a natural progression in technology management.
"Once companies see the benefit of having an open-source environment, they start to question the other relationships they have," Ferris said. "That leads to thinking about simplifying your relationships with OEMs and ISVs."
Nevatia noted that as use of Linux grows in the future, so, too, will adoption of 64-bit computing. He forecast that by 2005, a large part of Veritas' customer base will have made the move to 64-bit Linux.
Nevatia's hope for a Linux- and Itanium-based future is bolstered by recent research; IDC predicts the market for Itanium-based servers shipped with Linux will grow to $2 billion by 2008.
"For people that need more scalability and performance, there's nothing better than 64-bit Linux," Nevatia said.