Verizon Wireless unveiled the much-anticipated Motorola Droid X on Wednesday.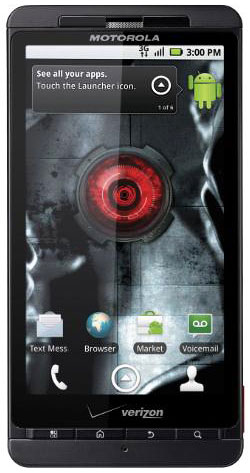 The Verizon Droid X by Motorola
The device, which Motorola variously describes as a touch tablet and a pocket-sized home theater, runs Android version 2.1. It will be updated over the air to run on Android 2.2 later in the year.
When that happens, the Droid X will double as a business user's device.
The Droid X will be available at Verizon Wireless stores and on the carrier's website from July 15 for US$199.99 after a $100 mail-in rebate.
The Droid X's Tech Specs
The Droid X is a CDMA device with an 8 MP (megapixel) camera offering a shutter speed of 1/1,000 seconds, autofocus, digital zoom, dual LED flash and cropping, rotating and geotagging tools.
It captures high-defintion video at 720p resolution at 30 fps (frames per second). The Droid X also runs streaming audio and video. Media formats supported include AAC, H.263, H.264, MP3, MPEG-4, .WAV and MIDI.
Motorola's new smartphone supports Bluetooth 2.1+EDR, the Android and Webkit browsers, and 802.11n WiFi. It can serve as a 3G mobile WiFi hotspot for up to five other devices and enables data access.
Owners can share videos by linking the device using an optional HDMI cable or Digital Living Network Alliance-certified technology to multiple DLNA devices such as a HDTV set, game console or PC.
The Droid X comes pre-loaded with games and apps such as "Need for Speed Shift," "NFL Mobile," Skype Mobile, and a full suite of Google Mobile Services, including Android Market, Google Maps with Street View, Google Latitude and Gmail and Google Search.
Users can download Blockbuster on Demand using Verizon Wireless' VCast video feature.
The new phone also comes preloaded with social networking widgets for Facebook, Twitter and MySpace. It has 8 GB of on-board memory and a preinstalled 16 GB microSD card. Its memory can be expanded to 40 GB with a 32 MB microSD card.
The Droid X weighs just under 5.5 ounces and measures 2.6 by 5 by 0.4 inches. The battery offers up to 480 minutes' talk time and up to 220 hours' standby time.
Display-wise, the phone has a 4.3-inch WVGA touchscreen with a resolution of 854 x 480 pixels, a pinch-to-zoom feature and a virtual keyboard.
Fun and Games With the Droid X
"We are breaking down barriers so that you can experience the Web the way it was meant to be and create, share and view content like never before, either in your hand or in your home," Sanjay Jha, Motorola's co-CEO, said at the unveiling.
As part of the fun and games, Verizon Wireless will carry Blockbuster On Demand on its VCast video service for the Droid X. Customers can get the latest new releases the day they become available.
"You can go onto the Droid X and browse, rent and buy new releases, and download them right to the device," Scott Levine, vice president of digital at Blockbuster, told LinuxInsider.
Blockbuster already has an app on the iPhone to let users manage their videos, and it launched a similar service on T-Mobile earlier this year. However, Levine was particularly excited about the Droid X.
"The Droid X is a phenomenal device," Levinne explained. "The video quality is crystal clear, and it runs fast," he said.
"Verizon is positioning the Droid X as an entertainment device," Ramon T. Llamas, a senior research analyst at IDC, told LinuxInsider.
The Voodoo That the Droid Do
Android smartphones are already posing a threat to the iPhone, and the Droid X will likely continue that tradition. In fact, the Droid X's arrival comes just one day before the official launch of Apple's latest smartphone.
"Do I see this as another real challenger to the iPhone? Absolutely," IDC's Llamas said. "Its strength lies in the combination of Verizon and Android and Motorola teaming up against AT&T and Apple. Where the Droid really excels in all its different versions is this kind of mystique that it's paired with Verizon and its operating system is from Google."
The screen size may play a big part in helping the Droid X take on the iPhone, Llamas said.
"The Droid X has the advantage of a large screen, which is in keeping with today's trends," Llamas pointed out. "The iPhone's screen hasn't changed in terms of size."
Taking its cue from Apple, whose iPhone has penetrated the corporate market because owners insist on using it for both personal and work use, Verizon will position the Droid X as an enterprise-friendly device when it's upgraded to Android 2.2 later this year. It will then support Exchange and Gmail for business.