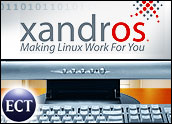 Linux solutions developer Xandros today announced that Wal-Mart's online store is carrying a full range of Linux desktop computers with the pre-installed Xandros Desktop Operating System.
Built by Microtel and available at Walmart.com, the offerings provide a range of inexpensive home, school, and small office desktop machines loaded with Xandros Desktop Deluxe.
The pre-installed computers come with free subscriptions to the Xandros Networks news and update facility, which features a huge inventory of open-source and commercial software that can be downloaded and installed with a single click.
User-Friendly System
"Xandros is known for its familiar desktop and clean, well-structured menus that invite even novice users to get right to work," said Rich Hindman, vice president of Microtel Computer Systems.
"With Xandros everyone can browse the Web, send their e-mail, create papers and presentations, burn CDs with a couple of mouse clicks, and connect to their Windows networks. Best of all Xandros users are freed from constant worries about viruses, spyware and system crashes."
Microsoft-Ready Package
The bundled office suite is compatible with Microsoft Word, PowerPoint and Excel. The exclusive Xandros File Manager provides seamless access to Windows network resources and the ultimate in drag-and-drop burning of music and data CDs.
Other Xandros Desktop OS features include multiple desktops, tabbed Web browsing, and the ability to install and run Microsoft Office and a number of other key Windows programs.
The deluxe desktop offerings have built-in modems and Ethernet connections. All hardware and software is fully tested and certified by Xandros Labs.
Vendors Get into Linux Game
Other vendors have also begun to peddle Linux desktops. A search on Google turns up listings from Bottom Line Communications, eRacks and TriTech Corporation. Specifically, Xandros Linux desktops are also available through online purveyors line Cheapbytes.com and LinuxCentral.com.
But analysts said landing the Wal-Mart deal is a nice win for Xandros, which is not one of the better-known Linux desktop distributions. Illuminata analyst Gordon Haff told LinuxInsider that Red Hat's move away from low-priced retail offerings has left the door open for companies like Xandros.
Open Field
"As Linux penetration on the desktop increases, as it inevitably will, there is certainly going to be a place there for a retail packaged offering that is oriented toward consumers or small businesses rather than enterprises," Haff said.
"There's probably more of an open field for Xandros in the home and small business market than there is in the enterprise market. Enterprises really have by and large decided on the tag team of Red Hat and Novell/SuSe."