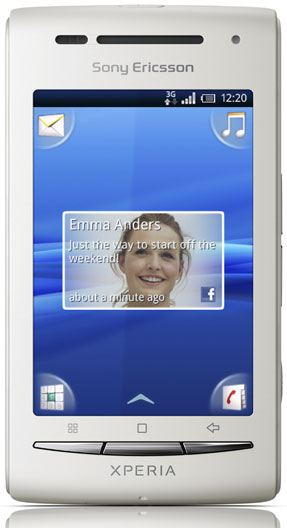 Sony Ericsson's Experia X8 Android Smartphone
Sony Ericsson has announced a mid-range addition to its Xperia smartphone series targeting European entertainment-hungry consumers looking for a small, stylish Android device.
The Experia X8 sits between the company's X10 and X10 Mini models; its 3-inch capacitive touchscreen has a pixel dimension of 320×480.
The GPS-equipped GSM-based phone features a similar form factor to the X10, which includes soft buttons in each of the screen's four corners for one-handed use and one-touch access to applications. The user interface also allows users to place widgets to their home screen.
Sony Ericsson's Timescape interface incorporates multiple social media and communications streams into one. It features push email, and access to ActiveSync.
It also includes a 3.2 MP camera. Although the company's initial announcement Wednesday said the phone would run the relatively aged 1.6 version of Google's Linux-based Android operating system, a later posting to the company's product launch blog by global product public relations manager Mattias Holm indicates that the phone may launch in some areas of Europe with version 2.1
Good Enough?
"As the improved timing for Android 2.1 availability now coincides with the launch window for Xperia X8, we are currently discussing with our customers the most appropriate way to bring the product to market for each operator in each country," Holm wrote in the posting.
The other devices in the Experia line also run 1.6, a version that lacks some speed and performance enhancements, live wallpaper, built-in pinch-to-zoom capability and 3-D photo galleries.
In response to criticism that Sony Ericsson's update schedule for the devices was too slow, Holm wrote that the company didn't want to endanger the "robustness" of the launch but was mindful of the user experience.
Still, version 1.6 is good enough for many consumers, Gartner analyst Carolina Milanesi told LinuxInsider.
'Price Is King'
For manufacturers, older versions of Android mean less R&D costs. Because they don't have to upgrade custom software residing on the phone to match capabilities of the new operating systems, they can keep prices down, ABI Research senior analyst Michael Morgan told LinuxInsider.
In a market like Europe, where dominant manufacturer Nokia blamed pricing pressure on smartphones for lagging performance in the last quarter, price is king, he said.
"I would be surprised if most consumers who buy Android phones are buying on the basis of version," Morgan added.
However, a widespread disparity in operating system versions could spell trouble for developers, who form the heart and soul of the Android community — the only smartphone application ecosystem that comes close to matching Apple's juggernaut, Morgan said.