Microsoft's new Cloud PC with Windows 10/11 service potentially offers a way for some Linux users to sidestep what could be the last barrier for businesses to adopt the Linux desktop without leaving behind must-have Windows applications.
But if you lack a company's backing, for the time being, you can expect Microsoft's new platform to consider you unsuitable. So personal use of Windows 365 is not a real option for all Linux users.
Windows 365 launched on Aug. 2, 2021, as a software-as-a-service offering that initially targets business and enterprise users.
Microsoft, so far, is silent about expanding that target user base to non-business users. Linux and Chromebook users looking to pay the monthly subscription price — especially if they run a home office-based gig — might be able to sign up for the Windows 365 streaming service.
Microsoft's announcement said Windows PC "is a new way to experience Windows 10 or Windows 11 (when available) through the power of the cloud across all your devices. We believe this will give organizations of all sizes the power, simplicity, and security you need to address the changing needs of your workforce as you embrace hybrid work."
Microsoft just blew into the smithereens the only reason why we could not use the Linux operating system, offered Alina Clark, co-founder and marketing director at CocoDoc.
"It feels like independence. If anything, a large number of Linux users will now get to enjoy Word and other Microsoft Office tools, which provide the highest amount of consistency in that regard, while still basking in the lightweight, super-efficient glow of the Linux operating system," the tech expert and growth manager told LinuxInsider.
Windows Cloud PC could lead to an increase of Linux users, she reasoned, since all those who were stopped from using it due to the Microsoft Office compatibility issues may just consider shifting.
What's the Difference?
Windows 365 is not the same product as the still-existing free and subscription services of Microsoft Office and Office.com. The new service is a cloud computing product that costs users a monthly fee. With it you get a fully functional Windows operating system accessed by streaming the Windows OS from your Cloud PC setup to your local devices.
The difference is you do not have to install the cloud-delivered Windows software on every Windows computer you use. Instead, you can access a fully functional Windows OS with full access to whatever Windows applications you use over the internet instead of installing it on your local hardware. You can stream the same access to all your desktop and mobile devices, including smartphones, Chromebook, and Linux-based desktop and laptop computers.
Microsoft's other Office suite is a web-based platform that only provides Office apps. You cannot use it to run other Microsoft OS and Microsoft Windows applications. That is a critical difference that Linux and Chromebook users (and, for that matter, macOS users) need to understand.
This new "Windows as a service" is an option for people and businesses who prefer running Linux on their local computers without configuring a virtual machine to access Microsoft Windows and installed Windows applications within Linux.
That VM option is not even fully available on Chromebooks. But just as Chromebook users can run Linux apps — just like Android apps — on a Linux partition within the Chrome OS, that capability is coming to Chromebooks via a similar Windows partition.
Windows 365 is going to give Microsoft the ability to compete for market share on a huge variety of new devices, according to Devon Fata, CEO of web design firm Pixoul. It also positions Windows 365 as a complement to those who primarily run Linux or macOS.
"I see this cutting both ways. On the one hand, it will be easier to run Linux and supplement with Windows 365 when necessary. But on the other hand, Windows can now compete with Linux on more platforms," he told LinuxInsider.
Quick 'n' Easy Sign Up (Maybe)
Signing up to subscribe to the Windows 365 cloud service is similar to the process Microsoft uses for its Office.com and Microsoft.com offerings. If you have a Microsoft business account already, you should be able to use your same email address to get started. I have an Outlook.com address registered for my web-based access to other Microsoft products.
My initial efforts were an exercise in futility. ECT News Network (the parent company of LinuxInsider) has a Microsoft business account; at least that is what the sign-up page confirmed as I cobbled together my user credentials to set up a Windows 365 account.
When I entered my outlook.com address, the Windows 365 sign-up page balked and said I needed to create a new Microsoft account. The automated process had me enter my suggested business company account name, and after several tries, approved an available user name.
The next step automatically affixed the required domain name of ".onmicrosoft.com." That is required for the Windows 365 license. Then Microsoft approved my suggested password. I needed to provide a secondary email address to prove my identity with a provided one-time passcode.
Following that, I was required to give my credit card information for the monthly billing. An initial free trial period was no longer available. But subscribers can cancel at any time by notifying Microsoft using the administrator account manager page.
Clicking the 'Next' button at this point loaded the Microsoft 365 page. The cloud-based delivery then provided options for adding other Microsoft applications and business tools.
Microsoft Happens!
Subsequent sign-in attempts start to display the Windows desktop before jumping to the failed page load display.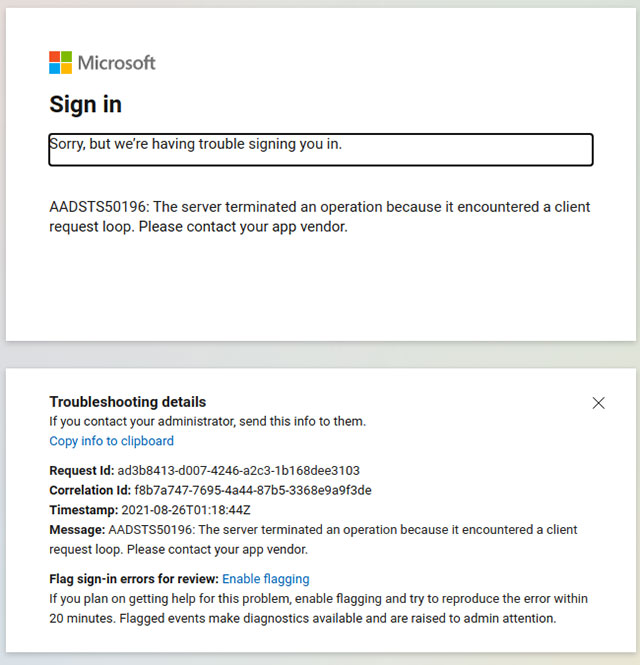 Over the course of several days, two other Windows screens of death appeared. Despite sending copies of several screenshots requesting tech support, email replies suggested logging on to file help requests. I would if I could, Microsoft!
Overall, Microsoft's newest Windows 365 offering seems to have an identity crisis. Some sign-in attempts brought me to my Office.com page or a Microsoft.com page. Some of the emails I received after contacting Microsoft directed me to respond to Office support.
Another reply suggested that I go to Microsoft Developer Network forums to scan the list of problems and solutions. That only added to my frustration. Nearly every entry there referenced other Microsoft products. I did not see any tagged with Windows 365.

Adding insult to injury, I searched other Microsoft databases for troubleshooting and general internet searches as well. That got similar results of no solutions. Again, almost no mention of Windows 365 turned up.
Finally, as I was finishing this article on Windows 365 as a non-option for most Linux users, I received an email response from a Microsoft media representative offering a suggestion but not a real solution.
"Since your initial access to Windows 365 is through a separate paid trial/subscription, we're unable to check the status of your Windows 365 environment. We recommend checking out this Tech Community blog post, which provides detailed guidance on how to set up Windows 365," wrote Nick Heinz for Microsoft.
Well, I did not sign up via a trial subscription. That option was no longer available for Windows 365. Clicking the link to the Tech Community blog post that Heinz provided just added more insult to injury, as shown by yet another Microsoft webpage failure.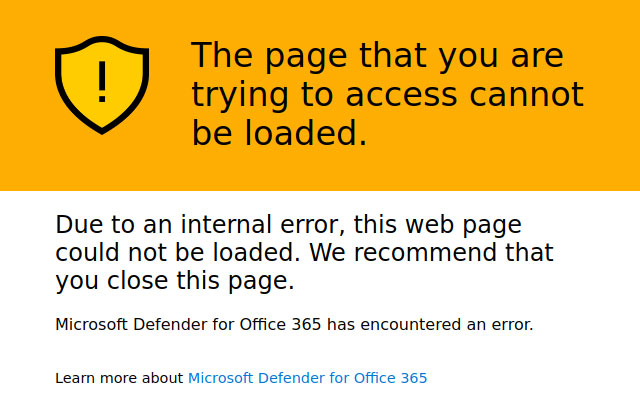 "We'd also like to remind you that Windows 365 is built for organizations, so you will need an existing Windows license and Microsoft 365 Business or Microsoft 365 Enterprise account for Windows 365 to work, as you would for a physical Windows 10 device in your organization. Provisioning can be done in the Microsoft 365 admin center," he concluded.
Wrapping Up
Therein lies the rub, perhaps! My initial sign-up for Windows 365 brought me beyond the admin center page. I have a licensed Windows 10 purchase. I previously signed up for a Microsoft 365 Business account, which I had no trouble accessing but will now not be renewing.
Microsoft's limitation of Windows 365 to only qualified business accounts is a big disappointment for potential Linux users. Being able to migrate to Linux for personal use without leaving must-have Windows 10/11 applications is still an unfulfilled dream.
Why does Microsoft not want to reap more subscription fees from interested Linux users without business affiliations? Or, for that matter, from non-business users of other computing and mobile platforms?
That is just plain bad business, Microsoft.
From a Linux user's perspective, Windows 365 can be a convenient — but costly — option to stream the Windows OS to any of your non-Microsoft devices using the web browser of your choice. But Windows 365 is not an option for personal use for Linux or any other platform without any business ties.