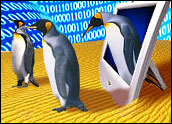 Longtime Linux distribution vendorXandros is not touting the latest Linux kernel functionality,KDE 3.42 user interface, or other cutting edgeopen source gems of the new version of its desktop operating system.
Instead, Xandros has dubbed version 4.0 of its OS the "Digital Lifestyle Linux Desktop," and touts wireless capabilities, music manager with iPod support, photo manager, Xine for most video and DVDs, and other consumer-friendly features, includingSkype Voice over Internet Protocol calling.
"Consumers are more interested in 'what can you do for me?' than the technical underpinnings, hence our 'digital lifestyle' theme," Xandros Chief Executive Officer Andreas Typaldos told LinuxInsider. "That said, our open source technologies are a major benefit versus Windows."
Lifestyle Over Linux
Among the benefits of Xandros 4.0, last released in v3 in December 2004, are a Linux kernel that has been upgraded to version 2.6.15 or higher; Linux Standard Base (LSB) compliance; new glibc 2.3.2 and gcc 3.3.5, X Windows System 6.9.0 technology; and a Xandros-enhanced KDE 3.4.2, according to Typaldos.
Even though Xandros might not be talking about technical improvements, they're there, he said.
"Some of our biggest improvements are under the hood," he pointed out. "A great deal of our v4 focus was spent on hardware compatibility. We took all the wireless and other drivers from the 2.6.17 [Linux] kernel and various other sources and back ported them into our enhanced 2.6.15 kernel to give our users the best balance in terms of stability and up-to-date hardware compatibility."
More apparent consumer improvements include wireless network profiles, updated Firefox browser, Thunderbird e-mail, and OpenOffice.org, as well as the ability to create NTFS partitions, which Xandros claims is a first among Linux distributions.
Conversion From Microsoft
Xandros, which is now selling v4 in home and premium editions for US$39.99 and $79.99, also includes its own security suite, which consists of Xandros Anti-Virus, Firewall Control, and System File Protector.
Stressing a swift and simple migration from Windows, Xandros also provides its Storage Manager to install and configure hard disks, enhanced music management with iPod support, and drag-and-drop CD burning from MP3s, along with Versora Progression Desktop for migration from Windows, Typaldos said.
"Xandros is squarely targeted at winning over Windows users, a no-brainer considering that we provide seamless compatibility with the 95 percent of the total desktop audience that Linux has yet to reach," he said.
Differentiating the Distro
Xandros is indeed a popular and solid Linux distribution, Gartner Vice President Martin Reynolds told LinuxInsider.
"The problem is, it's Linux," he said. "It doesn't have very big market share."
It is a good move for Xandros to position its Linux as a digital lifestyle platform, he opined, and by providing its software as an appliance of sorts, the company might be able to differentiate its product.
"Otherwise, [it's] just another Linux," Reynolds said.
Tough Windows to Break
Although some companies, including Xandros, are making the Linux desktop more consumer-friendly, the open source operating system is still excluded from some commercial media content, and still suffers from lagging mind share in the market, JupiterResearch Vice President Michael Gartenberg told LinuxInsider.
He added that because most PCs sold today ship with Windows XP already pre-loaded, consumers are not used to purchasing their operating systems separately or installing them.
"When every PC has Windows, it's a difficult proposition to get consumers to essentially downgrade," Gartenberg said.
Open Source Rising
Xandros' Typaldos contends that consumers can avoid Microsoft upgrades and get a more stable, secure solution through his company's Linux system, which is intended to ease the transition as well.
He compared the price of Xandros v4, which comes with security, office and other software, to the price of Windows antivirus software alone.
"The year of the Linux desktop will come," Typaldos said. "Not a volcanic blast — no need to evacuate Redmond yet — but the lava is starting to flow."