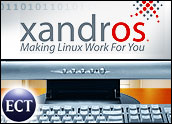 Xandros, a provider of easy-to-use Linux-based software applications, and Scalix, a provider of e-mail and calendaring for Linux and open source systems, have announced that Scalix messaging and collaboration capability will be added to the forthcoming Xandros Server.
The integration of Scalix within Xandros Server provides small and medium businesses with an all-in-one groupware solution, where the management of users can be centrally administered through the Scalix management plug-in within the remote, all-graphical Xandros Management Console, the companies said.
Award Winners
The combined solution aims to deliver e-mail and calendaring with support for a wide array of rich e-mail clients, including Outlook and the AJAX-based Scalix Web Access, as well as advanced e-mail reliability, security and openness.
"Xandros and Scalix are a great combination for small and medium businesses as both offer power without complexity," said Glenn Winokur, Scalix' CEO. "This award winning tandem provides superior functionality and performance versus costly alternatives, without their headaches."
Both Xandros Server and Scalix won product excellence awards for best server and best messaging solution respectively, at LinuxWorld in Boston last month.
"Scalix provides Xandros Server with the 'killer app' to penetrate the SMB space — world-class messaging without Microsoft," said Andreas Typaldos, Xandros CEO. "Together we will address an enormous pent-up demand from SMBs by offering an enterprise-class Linux messaging solution without the need for specialized Linux server experience or costly retraining."
Powerful Features
Xandros Server, built on top of Debian Linux, provides a powerful "Managed Community" model with consolidated system monitoring and workflow automation to address the issues normally encountered when administering SMB systems, Xandros said.
The system presents a simplified, centralized approach to remotely administering users and services through the all-graphical Xandros Management Console (xMC). It is compatible with any existing Windows domain and networking infrastructure, offering a plug-and-play replacement to costly Windows servers.
Xandros Server also provides a plug-in architecture that enables Scalix and other third party services to be integrated within xMC, and be managed just like any Xandros service.