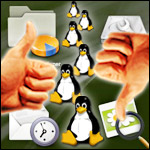 Xnoise is a new Linux Media Player for GTK+ environments that just keeps getting better.Perhaps the last thing that the Linux world needs is yet another media player, but Xnoise bridges the gap in this overcrowded software category. It has an intuitive user interface, speed and essential features.
The latest version, 0.2.19, was released Sept. 17, 2013, and is not yet well-circulated. You can find it in the Ubuntu PPA for Ubuntu and Linux Mint package managers. You can download a compressed version for a .deb installation as well as files for manual installation using a link on the developer's website.
Xnoise performs particularly well in key areas that other more popular media players handle more awkwardly. I was able to view my library and open titles instantly without having to wade through layers of right clicks or cascading menus.
A Hassle-Free Interface
Using Xnoise is a sonorous pleasure. Its interface does not try to cram every type of display window possible into a limited application window. Instead, the design is more like using a programming schedule on a cable TV channel guide.
Xnoise uses a simplified interface. You see just the essentials: your media collection list and the title, album and artist for selections placed in the play list.
The resizable media library sits openly on the left side of the application window. Its hierarchical tree design makes it easy to find any single track, artist, album or genre.
The top of the application window displays just the basic playback controls for the current selection and a progress bar. Other playback controls are accessible from the Edit menu. I would rather have that menu function added as a right-click option or an access button on the menu row.
Search Your Way
Even more useful is the search window that sits on top of this media collections column. I just type in a title or artist to get a listing of matches. This is much faster than scrolling through a long list of entries within the media collections column.
The remainder of the application window displays the track list, the title now playing or the lyrics, depending on which tab option at the bottom you select. Any title placed in the track list can be reordered or removed at will.
I especially like the queuing feature that works the same for music and videos. The selected titles play one by one without being removed from the list.
Tuneful Features
Xnoise supports an impressive list of audio and video formats. It plays every audio/video file type I have. Plus, this player supports the Ubuntu One Music Store and Magnatune. It also has Last.fm integration.
Both of these Web services require user accounts. These music outlets are easy to use thanks to the right-click menu options that let you add or execute menu collapses, track list additions and more. Setting up account details and other player options is painless in the Edit/Preferences menu.
Xnoise also applies these same features to video playback, so you can view and search for each type of medium by hovering the mouse pointer over the Media collections bar in the left column to expose sub-lists of your videos, streams, Last Played and Most Played selections.
Nice Features
Managing your music and video collections is easy with Xnoise. One example is how the software automatically fetches album art.
Another example is the smooth method for editing collections data. Right-clicking on a title in the play list opens its metadata for quick editing.
A data box opens with field windows that hold editable data. Right-clicking on a title in the media collections list gives you an options menu to Add to track list, Change album data, Add all tracks to track list, Remove cover image, Filter for artist and more.
Noisy Installation
The only disappointment I have with Xnoise is its limited installation ease. Since Xnoise is not yet readily available in most distros' package managers and the Synaptic repository, getting it is a turn-off. Newcomers to the Linux OS will see their frustration levels rise quickly with the manual get-and-install process.
For example, the download page on the developer's website has only a few choices. The Arch download retrieves a Page Not Found-404 error. Other download options require you to follow directions for adding the Ubuntu PPA.
More confusion persists with the Taginfo download option. This page provides files for TagInfo, a library for reading media metadata (tags), but this download does not get you Xnoise.
The only other download option is tarball. This page provides a short list of compressed files. You then must uncompress them and, in most cases, compile and install them using terminal commands.
One of these tarballs provides a .deb package that makes installation possible with the .deb installer if that application is installed on your computer. But this .deb file only is suitable for the AMD architecture and does not install on Intel systems.
How to Install
I was able to install the .deb package on a desktop computer powered by an AMD processor. I had to install Xnoise the hard way on an Intel-powered laptop. This was still preferable to the more involved compiling method required by the other tarball downloads.
Here is how to install Xnoise on systems that support the APT process:
1) Add the following official PPA:
sudo add-apt-repository ppa:shkn/xnoise
2) Update the repository listing:
3) Complete the installation:
sudo apt-get install xnoise
Bottom Line
Xnoise is a very nice media player that easily serves as a one-stop viewing and managing application for your music and video collections. It does not pack a lot of high-end features, but unless you are an extreme audiophile or video fanatic, you probably would not use such extra features anyway.
The features you do get, however, make Xnoise a near perfect media player for Linux.
Want to Suggest a Linux Application for Review?
Is there a Linux software application you'd like to suggest for review? Something you love or would like to get to know?
Please send your ideas to me at [email protected], and I'll consider them for a future Linux Picks and Pans column.
And use the Talkback feature below to add your comments!