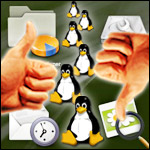 If you are looking for a really decent, snappy and lightweight KDE distro that installs easily onto a flash drive, check out ZevenOS' Neptune. LinuxInsider's Picks and Pans column has been devoting considerable time lately to playing with countless Linux distros. Rarely have I found truly bad distros — after all, Linux is Linux — but more times than not, one distro tends to blur into the others.
Linux distros seem to be a dime a dozen, in other words, even though they are free. Prepackaged applications are easily swapped for personal choices. Usually, distros come with a selection of desktop options to suit users' preferences.
Too often, I have to admit that the distro works reasonably well and is or is not a good choice for new Linux users. The recurring reaction felt but not expressed is the refrain: Is that all there is?
Sometimes, however, I find a distro that is better than the others. The Neptune distro is a shiny dime in that dusty dozen.
Close Family Ties
Neptune is not the only distro born into the Zeven OS clan. ZevenOS has German routes, with English being one of its few language translations. So look carefully at the pages and download options on its website. Both distros are side by side.
Neptune is technically a community-driven branch rather than an enterprise outlet. Another branch with GNOME 2.3.0 and Epiphany is also available. You need to do some page and link clicking on the website to find them, however.
The primary ZevonOS distro is an Ubuntu 10.10-based GNU/Linux distribution with a focus on providing a fast and easy-to-use system with BeOS-like user interface and support for older hardware. That distro is built on top of a slightly older Linux kernel and includes a large number of popular open-source applications for office use, multimedia playback and software development
The Neptune distro, recently released in version 3.2, is based on Debian "Wheezy" and is built for 64-bit computers only. It features the Linux kernel 3.10.5 and version 4.10.5 of the KDE Plasma Desktop.
More Under the Hood
This latest version of the Neptune distro comes with the Chromium Web browser updated to version 28. Unlike the CR OS distro I recently reviewed, however, Neptune does not include the tweaking provided by the InSync beta 10 client for Google Drive included for free. You still get the Google Chrome Web Store in Chromium, but not the direct tie in to all of your Google account extensions.
Neptune also uses Icedove 17 and LibreOffice to version 4.1.0.4. It ships with the latest multimedia codecs preinstalled as well as Adobe Flash and full HTML5 support. It also ships with MAGI, a tool for starting applications and managing the system.
To accommodate speed and booting from a USB drive, Neptune uses a low memory mode with Fluxbox instead of the standard KDE window manager. It includes the Netbookshell optimized for small sized screens.
WiFi Savvy
Neptune relies on Wireshark, Aircrack-ng and kismon for wireless diagnosis. Maybe that is why I had no connection problems with my collection of new and aging test gear.
I have been a bit critical of Linux distros that failed to connect wirelessly. That problem seems to be almost as prevalent with some Linux distros today as is connecting to standard printers.
I am very pleased, however, that Neptune includes the drivers to use the wireless hardware. I have three main laptops and netbooks for testing. Each has a different hardware configuration.
Usually, I can get a Linux distro to connect to at least one of them. Neptune succeeded in connecting with all three. That is a great accomplishment.
Set Up
One of the things that makes ZevenOS's Neptune distro so handy is its performance. Its lightweight design gives it a much peppier run from the DVD in a live session.
That same design makes it very fast in a live session booted from a USB drive. Its performance is so good that I would be very comfortable using Neptune regularly with its persistent settings configuration rather than installing it to a hard drive.
It comes with an easy-to-use USB Installer. An included Persistent Creator makes it easy to store system to the USB drive.
Another great feature is Neptune's ability to update the USB drive installation. This is something I have not seen in most other portable Linux installations. The Debian software repositories update the included software regularly to make this a long supported distro.
Look and Feel
Neptune's interface is uncluttered and cozy. It sports the traditional panel bar across the bottom of the screen. The usual KDE widgets are available to add to the panel.
The right end of the panel displays the expected notification area. The left side shows a few embedded launch icons, the virtual desktop switcher and the menu button.
The menu is a simplified arrangement of the classic KDE menu with a vertical favorites row and well-organized program categories. You can right-click the mouse to place an app on the Favorites List. You cannot add icons to the panel or the desktop, however.
Apper Apps
Neptune uses the Apper utility to get, remove and update software. I like it much better than the installation and package tools used by Ubuntu and Linux Mint distros. It is a lot less finicky and has a smoother design.
Other included applications are LibreOffice 4, Amarok Audio Player, Audacity Sound Editor, GNOME Media Player and a desktop recorder tool.
A nice addition is the Eclipse IDE for developing applications, the Gwenview KDE Image Viewer and GNU Image Manipulation Program (GIMP) for image editing.
Only a few games are included, but so many stellar KDE-based applications are preinstalled and available through Apper that Neptune really does not leave you envious for any missing programs. Apper also handles non-KDE applications.
A Win-Win Distro
Neptune gives you a very satisfying combination of features that make leaving your existing Linux distro a no-brainer. You can make a permanent installation to your hard drive or run it as a DVD live session without needing to make special settings.
A cooler option is to run Neptune from a USB drive without doing a dual boot on the hard drive. Then you can take your Linux on a stick with you and use it wherever you computer. All of your files, apps and settings remain intact.
I used to run KDE desktops on my primary computers. Then I took a fancy to the Cinnamon desktop. Neptune gives me a computing environment that sits comfortably between both of those options. I can run all of my specialized Linux programs with Neptune. Neptune is a win-win distro.
Want to Suggest a Linux Application for Review?
Is there a Linux software application you'd like to suggest for review? Something you love or would like to get to know?
Please send your ideas to me at [email protected], and I'll consider them for a future Linux Picks and Pans column.
And use the Talkback feature below to add your comments!