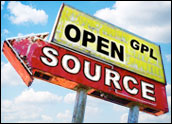 New app choices have a habit of getting in the way of older favorites. Sometimes, a new approach or design can tempt you to give up one approach to solving a computing need by replacing it with another. That is the case with personal information manager (PIM) apps.
Open source software gives us Linux users lots of redundancy and choices. Applications in the PIM category are no exceptions. For example, not too long ago I reviewed two workhorse PIMs called "qToDo List" and "Tasque." See the review here. It was tough enough deciding which one to use regularly.
Sometimes calendar apps come fully loaded with information management features that go beyond basic calendaring tasks. This just stretches the choice-making even more. The Linux Sunbird Calendar app is a prime example. Even note-taking apps can provide many of the features found in full-fledged PIMs. Take, for instance, Basket Notes and Note Case Manager.
Three relatively new Linux apps could very well go head-to-head with these other apps in managing notes, appointments, research, reminders and more. Let's check out the Chandler Project's Note to Self Organizer, KOrganizers and Getting Things Gnome. These three programs use innovative approaches to keeping your world from chaos. But each one comes with its own set of adjustments to your work style. So the challenge is to decide if one of these PIMs is a better solution than what you currently use.
Not for the Faint-Hearted
The Chandler Note to Self Organizer takes some luck to install and run. If your equipment is not right, you can forget about it. It is not a one-size-fits-all-users kind of application. You need a narrow range of hardware and /or OS platform to be successful with Chandler.
I cut corners by buying an AMD processor instead of an Intel chip on my newest Linux desktop and a legacy laptop both running Ubuntu Lucid Lynx. I paid for it when I attempted to install the Chandler package, which is not available through normal distro package managers. Chandler refused to install.
I could only install it on a newer Intel-powered laptop running the same Linux distro. But that required finessing an archived file and doing a manual installation. Even then there were setbacks.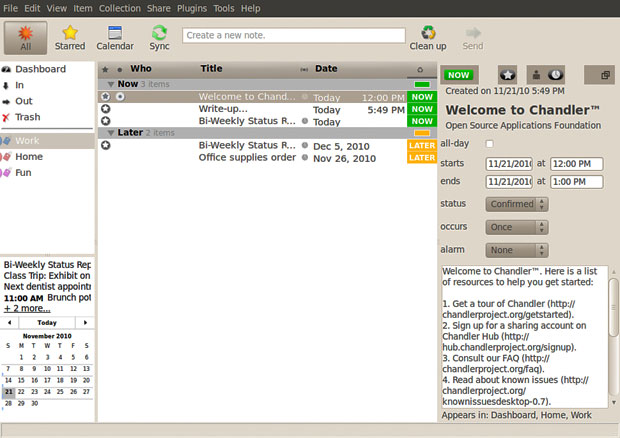 Chandler Note to Self
Troubled Install
Installation at first failed on even the Intel architecture. Ubuntu lacks the libicu36 library, according to an error message generated by the installation routine.
Trying to find this code file proved futile. I was further puzzled by the installation failure because Ubuntu Lucid Lynx has newer versions of Libicu code.
However, manually decompressing the tarball (tar.gz file) and then moving all the files and folders to their own location on the hard drive solved that glitch. But I can only start the program by typing ./chandler from a terminal window within the Chandler folder. But, hey, at least the program runs.
More Limited Options
Two download choices exist. One is the tar.gz download. This is built on the Ubuntu (v6.06 LTS) operating system, also known as "Ubuntu Dapper." This download option runs on only a few other Linux distros.
Option two is a .deb download. This is built on Ubuntu v7.10 LTS known as "Gutsy." I searched and search and failed to find any Chandler download that works on AMD circuitry.
This is definitely not the way to win friends and influence Linux adopters. The Chandler Project started up in 2008 and seems to be very limited in scope. That is too bad, because I was otherwise really impressed with its features.
Chandler View
If you are familiar with Google Calendar, then you will feel right at home with Chandler. The display window shows scheduled appointments, notes, monthly calendars. You can also set up Chandler to sync with your email server.
Information synchronizing is a key aspect of the organizational plan. The Chandler Project is built around small group collaboration and a core set of information management work flows modeled on Inbox usage patterns.
The Note to Self Organizer uses an innovative method to keep you on target. Tasks are categorized with tags for doing things Now, Later and Done.
Getting Things Gnome
This app is designed for easy yet powerful use. Its goal is to provide a simple and flexible organizational tool for the Gnome desktop environment. It does this with a text-based system for creating and editing tasks.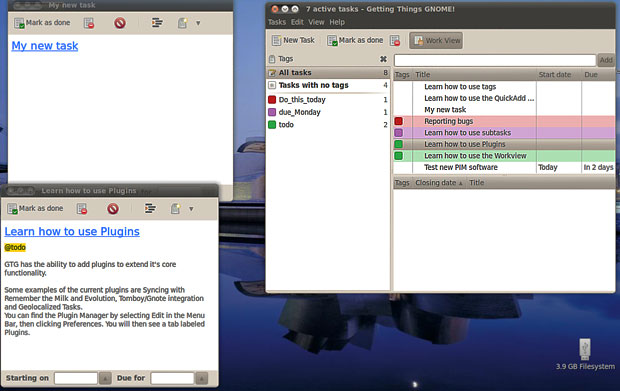 Getting Things Gnome
As an example of its power, the task editor automatically recognizes metadata — tags and subtasks — by using a very simple syntax.
GTG has an organization plan not unlike many photo storage applications. You can assign multiple tags and sub tasks to a task by right-clicking and then search by tag or content. Right clicking on any task also lets you edit it or schedule rating and due dates. You can also mark a task as done or delete it.
Cool Stuff
With GTG you can color code tasks and group them by color. This can be a very useful way to organize information visually.
GTG also has a plug-in system that adds useful features. For example, you can activate one or more of the bundled plug-in modules. These include Tomboy/Gnote, notification area, closed task remover, send task via email, import from JSON2 and evolution.
You can even mesh GTG with notes already stored with the Remember the Milk service. This is a third-party Web site that offers additional functionality to some note-taking and scheduling apps, including GTG.
Uncluttered GUI
The main viewing pane is pre-populated with a few very useful tasks. These already visible tasks serve two purposes.
One is a working example of what you can do in storing information and scheduling tasks. The other is a built-in guide for getting started with this app.
The task windows are size-limited. So when you display individual task notes, you can not make them small enough to cram numerous notes into a confined part of the desktop. Thus, you do not get a sticky note function, although you can display several larger note windows around the main display.
Organizer for KDE
The KOrganizer app is the calendar and scheduling program built into the K Desktop Environment. But it seamlessly runs on the Gnome desktop as well.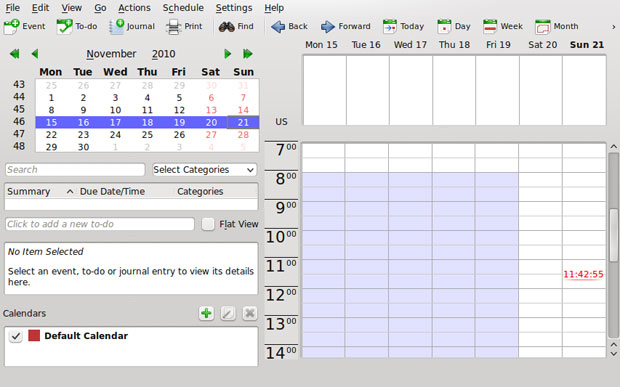 KOrganizer
KOrganizer provides management of events and tasks, alarm notification, Web export and network transparent handling of data. It also provides group scheduling, import and export of calendar files and more.
I am not a fan of the current version of KDE. But I do favor several of the KDE applications, such as this one, and run them as part of my apps of choice on Gnome.
OK View
Of the three apps discussed this week, KOrganizer has the most traditional GUI (Graphical User Interface). Compared to GTG and the Chandler Project's organizer, the KDE app's view is almost too busy. It crams way too many modules into the display window.
For instance, both a monthly calendar and a detailed weekly appointment calendar compete for your attention. A tool bar across the top of the window just below the menu row contains icons to instantly open windows to create notes, journal entries, to-do List and events. A drop-down list makes categorizing content — like a tagging system — quick and simple.
Despite the overly populated view, KOrganizer is as complete a tool as I have seen. I like being able to integrate separate modules for journaling, note-taking, tasks and scheduling all in one place. This approach may not make you more focused on getting your work done, but it will definitely keep all of your otherwise scattered information locked down.