TuneIn to the Good New Radio Days
By Patrick Nelson
Jul 27, 2012 5:00 AM PT

TuneIn Radio Pro, an app from TuneIn, Inc., is available for 99 US cents at Google Play. It wasn't too long ago that you'd have to pore over shortwave radio schedule listings, cross referencing time of day, with frequency in kilohertz, in order to listen to long range, overseas broadcasts -- picking out the words from the spooky radio harmonics.
Then along came the Internet, which allowed for a continuous stream of mellifluous programming to be place-shifted anywhere. Podcasts then allowed for a form of time-shifting, and ultimately the smartphone and mobile network gave us portability.
The Old Days
My first experience with the streaming of radio onto a smartphone involved searching out mms protocol audio streams designed for desktop Web and manually entering endless characters into primitive Windows Mobile audio player applications on the Palm Treo platform.
If my mobile carrier -- or the broadcaster -- had ever bothered to confer and check their server logs back then and had seen what I was doing, they may well have thought this guy was mad. But I did get to listen to hometown news wherever I was.
TuneIn Radio
TuneIn Radio's app steps right in and capitalizes on these technologies and tools. I've been taking a look at the Pro version.
TuneIn Radio brings the radio stations that we're used to seeing in now-classic Internet radios, and indexes them in a mobile app. It claims to have 70,000 radio stations.
Here's where it differs slightly in the classic Internet radio sense: It also indexes 2 million on-demand audio podcasts and segments, and in the Pro version, includes recording functionality.
Comprehensive Indexing
The indexing organization is excellent, and categories include location, language, talk, local, music and so on. Subcategories are as expected: classic rock, adult contemporary, sports talk, college baseball and so on.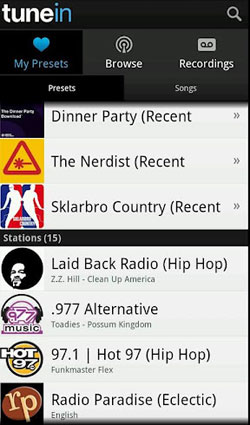 Indexing is comprehensive, with practical scanner streams like fire department dispatch frequencies indexed by locality.
Exploring during testing was made easy with a simple, effective "Explore News" section that allowed me to browse subjects like "Investigative" and "TV News."
The equal treatment given to live, on-demand, scanner, TV News and so on is a splendid concept that really shows off a post-radio "anything audio" approach.
Curated Content
A "TuneIn Topics" category carries curated, on-demand news report segments. Choosing, say "Occupy Wall Street" delivers a set of links to NPR pieces and others.
It was hard, however, to figure out who the broadcasters of the audio chunks were without listening to the sign-off at the end of the segments, because there wasn't a clear broadcaster byline -- just a sometimes-vague logo.
Search Sometimes Stumped
Search worked well for news stories -- less so for music.
A search for Bob Dylan, the musician, delivered a bunch of radio stations playing his genre, not as is promised in Google Play, a set of radio stations playing the actual troubadour live.
A search for Bob Diamond, the exiting scandal-plagued banker, delivered a comprehensive set of podcasts in which he is mentioned, including multiple snippets relating to his final settlement package -- the story of that day.
Lame Recording Functionality
TuneIn Pro's recording functionality is half-baked. Although there is flawless record capability, there's no timer. So, big deal, you can record what's playing now by pressing a record button.
But you can't keep the device alive and configure a set of recordings every day at three in the morning, for example.
The recording function is the differentiator between the base app and the paid app.
Car Mode
Presets along with Car Mode work well. I found it easier to set up an account at TuneIn's desktop website and choose my presets there though.
Car Mode provides larger-than-normal icons and buttons, and looked slick with no pixelation on my test device -- a tablet that I have mounted in my vehicle -- although I couldn't get Voice Search to work, nothing unusual there.
Customer Service
TuneIn's CS is outstanding. I had interacted with it in a previous encounter when I had been having a problem with the app failing to stream over Sprint on one of my devices.
After a bit of to-ing and fro-ing, TuneIn got me an unreleased beta version of the app that fixed the issue. I did not tell the company I was a journalist during the dialog.
In Conclusion
TuneIn Radio Pro is a must-have app that defines the smartphone.
I'd like to give it five stars out of five, but can't because of the lack of timer recording functionality.

---