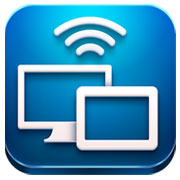 Air Display by Avatron Software is available for US$9.99 in the Google Play Store.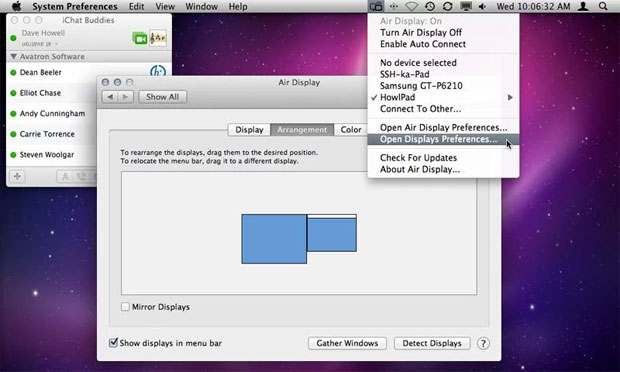 I was intrigued when I came across Air Display, an Android app that lets you use your tablet as a second screen.
Second PC displays definitely boost work productivity. I've been using two displays for years, keeping my email client open all the time on the left screen — a laptop display — and work-work on the right screen.
I'm able to monitor incoming junk mail without having to stop working. I can satisfy my curiosity whenever the new email icon appears.
My right-hand display is a good-sized 27-incher too, so that allows Word on one side of it, and a Web browser on the other. All-in-all, I'm getting three full-sized windows — when I'm at my desk, that is.
That's all well and good. I can speed through daily work and learn about Nigerian banking procedures, all at the same time.
The Road Warrior's Dilemma
Things slow down when I'm on the road, however, as I'm not lugging a second-screen. I have enough to carry, what with all my gadgets: tablet, power strips, multiple wireless modems, SIM card collection, gourmet coffee machine and so on.
I find a laptop-only screen limiting and tiresome though — I'm always flipping between browser, email client and word-processor windows.
Avatron's Air Display app, though a bit pricey, replicates the wired second screen connection through a WiFi network.
The app allows you either to extend the computer screen onto the tablet or mirror the PC screen contents on the tablet.
What's especially interesting is that the second screen — the tablet — provides a touch interface with drawing and other capabilities.
Testing Trauma
My heart sank when I started playing with this app, though. I just could not get it to work on a Windows 7 Home Premium OS machine with either an Ice Cream Sandwich tablet, or a Gingerbread phone.
I spent at least an hour on the project with various permutations of blank screen and frozen PC — at one point even considering pulling the laptop's battery.
I made a last ditch effort to get Air Display to work by substituting a Windows 8.1 laptop and immediately all was forgiven, because the app worked in that configuration. It didn't just work — it worked beautifully, converting me into a believer.
I never did find out what was wrong on the Windows 7 machine, but I suspect it was firewall-related. I recommend allowing plenty of time to configure this app — it isn't a one-touch setup, despite the optimistic setup screens.
Setup is convoluted. It involves installing drivers on the host machine — the PC or Mac laptop — and getting the PC or Mac to see the tablet via the app and through the WiFi network. The whole shebang won't work if the respective devices aren't on the same network.
At one point, during the Windows 7 install, I was prompted to enter IP addresses manually too. Not so during the Windows 8.1 install.
Overall, I liked the tablet-as-second-screen experience a lot, particularly because I'm already hauling the gear. However, I did find the tablet screen was periodically unresponsive after my laptop screen had timed out. I was running both devices on battery to replicate travel.
That was odd, because the mouse pointer moved normally, but minimizing and maximizing windows was unresponsive. Responsiveness did pick up after a while, and I'm going to give this app the benefit of the doubt.
For my purposes — PC-based email monitoring — it worked fine, and I'll play around with my power and hibernation settings on the PC, which may fix the sleep effect.
I'm looking forward to trying this while being jostled on crowded public transportation.