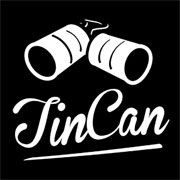 TinCan is available in the Google Play store for free.

One lesson that's easy to learn if you've been through any natural disaster is that you shouldn't rely on classic means of communications like land lines, cellphones or Internet. Capacity gets challenged; infrastructure gets destroyed.
Where I live, in brush-fire and earthquake-prone Southern California, neighbors have developed ham radio-based communications plans over the years that are geared solely towards communicating in a disaster.
One area that I'm working on is text-over-radio, and during a recent drill here, I was able to successfully send a mock report using NBEMS, or Narrow-Band Emergency Message System — a software suite that converts text into sounds. It worked well, and I communicated error-free text over 40-odd miles with just a walkie-talkie and laptop with sound card.
So, I was intrigued to come across Android app TinCan for wireless, network-free messaging.
WiFi Radio
TinCan is a free text messaging app that doesn't use Internet or cellular signal; rather, it uses the WiFi radio in your mobile device to create a hotspot. You text using your Android device over the hotspot to other devices within range. Intriguingly, no router is required.
Could this app be useful in a disaster — when cell service isn't available — for communications among neighbors? The answer is that I think so, yes — if it were simple to set up.
Unfortunately, it isn't, and it took me a good hour to get it to work. It did work, however — and flawlessly — once I got it going.
How It Works
TinCan takes advantage of ad-hoc WiFi functionality native in Android devices. The principal problem I encountered was a lack of documentation from the developer. I was configuring blind, and the only reason I got it to work was that I knew what an ad hoc network is.
Ad hoc is the hotspot function whereby you can tether tablets and laptops to a smartphone in order to take advantage of the smartphone's cellular data connectivity. You save money, because you are only buying one connection.
What designer Van Orden and concept creator Mark Katakowski have done is simply used the hotspot's networking elements to allow two or more devices to send and receive data with each other — in this case, short text messages.
Once I had determined that TinCan uses ad hoc networking — the marketing spiel offers an unhelpful, "messages hop directly from phone to phone over WiFi" — I had only to disable WiFi on both test devices (a KitKat-driven Moto X and a 4.2.2 Jelly Bean tablet) and enable the app-specific hotspot on one and then connect to that hotspot with the other.
It would have saved me a lot of trouble if the developer had provided step-by-step instructions instead of an insinuation of ethereal "hopping" — what, like a rabbit?
Anyway, it did work, no thanks to the developer's instructions.
In-Field Briefings
If they can get their instructions clear, I think that this could be a superbly useful tool for non-government-equipment-wielding civilians — like the Family Radio Service for walkie-talkies is as well.
Range is the range available from the host smartphone — probably only 100 feet — and you can't chain. Unfortunately, all of the devices have to be in range of the host device.
Usage scenarios could include in-field briefings where Internet or cell service is unavailable. Search and rescue coordinates or victim descriptions could be sent to multiple civilian responders at the same time, for example.
In a more large-scale, preplanned environment where infrastructure has failed — like at a mass shelter, say — messages could be sent to large numbers of people at the same time.