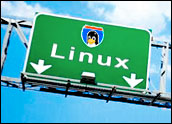 Amid all the talks, workshops and training sessions now under way at LinuxCon, attendees hoping to get an up-close look at some of the latest open source technologies were not disappointed.
A wide variety of products are being demonstrated by a diverse set of vendors in the technology showcase at the Linux Foundation's first annual LinuxCon event, which runs through Wednesday in Portland, Ore., alongside the second annual Linux Plumbers' Conference.
Companies participating in LinuxCon's technology showcase include Intel, IBM, Novell, HP, Wind River, Hooduku, Linbit, PogoLinux, Qualcomm, Oracle Technology Network andSoftLayer.
'The Power of Linux'
The diversity of the companies participating is a testament to Linux's increasing acceptance, Jim Zemlin, executive director of the Linux Foundation, told LinuxInsider.
"In the same showcase, we have companies like Qualcomm, which is using Linux in the mobile space, and IBM, which is working with Linux on mainframes, and everything in between," Zemlin explained. "That speaks to the power of Linux today across every aspect of computing, from mobile devices to desktops to supercomputing.
"We actually had to shut down registration because we've been oversubscribed," Zemlin added. "While my team and I would like to take full credit for that, I believe it has more to do with the fact that Linux is at the intersection of every major technology change that's happening today."
SUSE and the Clouds
In addition to running a SUSE Workshop at the event, Novell, for one, is on hand in the technology showcase to demonstrate SUSE Linux Enterprise, SUSE Studio and the SUSE edition of Moblin, Joe Brockmeier, Novell's openSUSE community manager, told LinuxInsider.
Hooduku, meanwhile, is demonstrating its Plexicloud open source cloud hosting platform, company founder Sudhi Seshachala told LinuxInsider.
"Everybody talks about the cloud, but nobody is doing apps for the cloud," Seshachala explained. "What we're trying to do is provide cloud hosting as well as app hosting, so customers don't need to worry about hosting, security or scalability. All they need to do is verticalize the apps for their needs."
Plexicloud, which was originally launched earlier this year under the name "FlexCollab," is essentially a hybrid model that supports both cloud hosting and application hosting on the cloud, he said.
Wind River
Then there's Wind River, which is demonstrating two things at LinuxCon, including its Wind River embedded Linux distribution.
"Linux has incredibly strong momentum in the embedded market," Sven Dummer, Wind River's product line manager for Linux and open source, told LinuxInsider.
Unlike multipurpose Linux distributions like Debian or Fedora, for example — which "are meant to be installed and run" — Wind River provides a development environment that helps users customize and optimize the technology for the device in question, Dummer explained.
Wind River is also demonstrating an early version of its Moblin platform.
"Last year, we announced a collaboration with Intel whereby we're building a MID-specific distribution based on Moblin," Tim Fahey, the company's senior program manager for mobile marketing, told LinuxInsider. [*Correction – Sept. 22, 2009]
Moblin Wares
On view at LinuxCon are a browser, a photo-viewing application and an audio player, all targeting the mid-form factor and all optimized for Intel's Atom processor, he explained.
All work is also being contributed back to the Moblin community, he noted.
Wind River announced last week, meanwhile, that its Wind River Linux 3.0 for MIPS architecture complies with the Carrier Grade Linux (CGL) 4.0 specification, Dummer added.
With all the technologies and expertise on hand, the first LinuxCon event is proving to be not just a community show "but also an industry show that gives movers and shakers in the industry a chance to get together in a noncorporate environment," Novell's Brockmeier observed.
"There are a couple of trade shows that have been organized by for-profit entities that haven't really addressed the right group," he noted. "This one has all the right people."
---
*ECT News Network editor's note – Sept. 22, 2009:
Our original publication of this article erroneously quoted Tim Fahey as saying that Wind River was "building a
MIPS
-specific distribution based on Moblin."