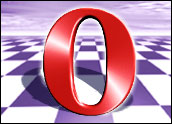 Users of Android smartphones now have a new option for browsing the Web: A beta version of Opera Mini 5 was released Thursday for the Linux-based Android platform.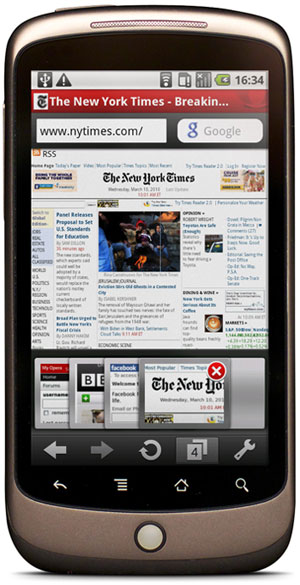 Opera Mini 5 Beta 2
New features in the software, which is an upgrade to the current version 4.2, include tabbed browsing, which lets users browse several Web pages at once; Speed Dial, which offers one-click access to a user's favorite pages; Opera Link, a way to synchronize bookmarks and Speed Dial between the user's mobile phone and desktop computer; and Download Manager, which manages downloads from the browser.
Opera Mini enables Web browsing on almost any handset by compressing data by up to 90 percent before sending content to the phone, resulting in significantly improved page loading speed, according to the company.
Opera Mini already has more than 50 million users worldwide. The latest beta version for Android can be downloaded for free at m.opera.com/next.
'Android Matters'
"This says Android matters," Neil Strother, practice director for mobile marketing strategies at ABI Research, told LinuxInsider.
"In the ongoing battle over mobile operating system supremacy, Android is making strides this year," Strother explained. "This is a clear sign that at least from a browsing standpoint, the platform matters."
'Functional and Elegant'
Indeed, "I think it's another one of numerous signs that Android is widely expected by operators to be very popular," agreed Chris Ambrosio, executive director of wireless for Strategy Analytics.
"Opera has always done a pretty good job with browser implementations — they're easy to use and download, and they make it very functional and elegant for the user," Ambrosio told LinuxInsider.
The fact that the browser has been updated on Android "is a good sign for Android users," he added. "Operators and handset manufacturers will be glad it's there, because it's a good product."
Growing Market Share
Opera Mini "has been around, and it seems to get ported to most phone platforms eventually, especially Linux platforms," In-Stat analyst Allen Nogee noted.
Opera Mini has grown in market share over the past few months, in fact, going from 0.53 percent of the browser market at the end of last year to 0.64 percent in February, according to recent data from market researcher Net Applications.
Opera Software also recently announced a version of Opera Mini 5 for Apple's iPhone platform.
Opera itself, meanwhile, claimed 2.35 percent last month, Net Applications found, behind Safari, Chrome, Firefox and Internet Explorer.
Focus on Compression
Opera Mini's compression technology is particularly important now that people are "starting to use browsers a lot more on their mobile devices," Chris Hazelton, research director for mobile and wireless with the 451 Group, told LinuxInsider.
It's also interesting because the browser is not tied to a specific carrier, he added.
One potential downside to using an outside browser like Opera Mini, however, is that users are, in some ways, then forced to live in two different browser worlds, Hazelton pointed out.
"Because it's not the native browser, it doesn't integrate with a lot of features in the device," he explained. So, whenever the operating system needs to open a Web page, for instance, it will default back to the Android browser, he noted.
'Uncertain' Prospects
The upgrade is definitely an indication of Android's growing traction, RedMonk analyst Stephen O'Grady told LinuxInsider.
Nevertheless, the browser's prospects for volume adoption are "uncertain," O'Grady opined.
"Like the iPhone, Android has a capable Webkit-based browser that mostly just works," he explained.
For that reason, O'Grady added, "whether users will see sufficient differentiation in Opera Mini to download and install a second browser is unclear."