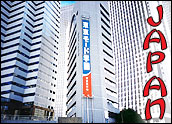 Targeting a market already replete with numerous contenders, a consortium of six Japanese firms on Monday announced plans to build a new mobile operating system that will be compatible at least with Linux and Symbian — and possibly with Android too.
NTT Docomo, Renesas Electronics, Fujitsu, NEC, Panasonic and Sharp have agreed to jointly develop a new application platform for mobile phones, with the commercial launch of phones running the new platform scheduled for the second half of the fiscal year ending in March 2012.
The new platform will offer improved processing speeds for high-quality video and enhanced 3-D graphics processing for advanced mobile multimedia functions.
Android 'Under Consideration'
By tapping the strengths of the six participating companies, the consortium-based approach to developing the new platform will enable mobile phone manufacturers Fujitsu, NEC, Panasonic Mobile and Sharp to avoid having to develop basic application-processing functions on their own, the group explained, thereby allowing significant reductions in development time and costs.
They'll be able to invest more time and resources in the development of manufacturer-specific handset features, the companies said.
The platform will be offered to mobile phone manufacturers worldwide as well. Compatibility with open operating systems such as Android is also under consideration.
'Not Really Surprising'
The news is "not really surprising," according to Allen Nogee, a principal analyst with In-Stat.
"It seems that Japan typically uses and develops its own standards and technology, and the large majority of handsets in Japan are manufactured from Japanese manufacturers," Nogee told LinuxInsider. "There are exceptions, but most Japanese operators also buy their infrastructure from Japanese manufacturers. It's the way it always has been."
The Japanese have used PDC, PHS and other technologies available only in Japan, Nogee noted, "although more recently, in terms of standards, the Japanese have embraced CDMA and WCDMA worldwide standards."
Cellphones in Japan are typically made by Sharp, Panasonic, Mitsubishi, Toshiba, NEC, Denso, Pioneer, Sanyo, Kyocera, Hitachi, Casio and Sony Ericsson, Nogee pointed out.
It's not yet clear whether apps developed for Linux and other compatible operating systems would run on the new platform, he said.
'Makes Sense'
"It's not surprising to see these companies coming out with something like this, given most are members of various Linux consortia, including The Linux Foundation and LiMo Foundation, and they have put significant effort, resources and strategy into leveraging Linux," 451 Group analyst Jay Lyman pointed out.
The compatibility with Symbian, meanwhile, "makes sense given its popularity and continued use on handsets, particularly in Asia and Europe, and also opens the platform up to a good range of Symbian applications," Lyman told LinuxInsider.
The case would be similar for support of Android, should it eventually be included, since that would also reinforce the platform "with its growing developer community," he added.
A 'Wild Frontier'
In general, mobile operating systems represent "one of the wild frontiers," telecom and wireless analyst Jeff Kagan pointed out. "Many are trying to win the customer, but few are succeeding."
Microsoft has "enormous potential," but it's "falling very short because it is just too complicated to use for a mobile device like a phone," Kagan told LinuxInsider.
Apple, meanwhile, has been successful with its easy-to-use OS, Kagan added: "It's all about icons and pressing fewer buttons."
There will be plenty of competition in this area over the next several years, but it could be a while before the winners in the operating system arena are decided, he concluded.
"To tell you the truth, I think each year is a new opportunity," Kagan explained. "One may be hot until the next year, when a competitor comes out with something hotter. Then the first will try and meet the challenge. That's the way this game is played."