Following a spate ofrumors, leaked specifications, and an ad campaign explicitly challenging the iPhone, Verizon and Motorola on Wednesday officially announced Droid, the first smartphone based on Android 2.0.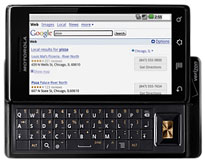 DROID by Motorola will be available in the U.S. at Verizon Stores on Friday, Nov. 6.
(click image to enlarge)
Featuring high-speed Web browsing, voice-activated search, a customizable large screen, plus access to thousands of applications and hundreds of widgets through the Android Market, the new Droid device will arrive on Nov. 6.
It will be available online and in Verizon Wireless Communications Stores for US$199.99 with a new two-year contract after a $100 mail-in rebate.
The Droid is the first device Motorola is bringing to market under its strategic partnership with Google, noted John Stratton, executive vice president and chief marketing officer at Verizon Wireless.
Customers will have access to more than 12,000 applications, he said.
400,000 Pixels
Droid is one of the thinnest full-QWERTY slider phones available, claims Motorola. Features include location awareness, voice recognition and over-the-air updating.
Its 3.7-inch, high-resolution screen boasts a width of 854 pixels to reduce the need for side-to-side panning and more than 400,000 pixels total, significantly outstripping what's available on competitors — including Apple's iPhone.
A 5-megapixel camera comes loaded with dual-LED flash, AutoFocus and image stabilization; DVD-quality video capture and playback is also available. A 16-GB memory card is included.
Turn-by-Turn Voice Guidance
Voice-activated search, meanwhile, allows users to simply tell the device what they're looking for — "gas station," for example — and it will serve up Google search results based on their location. For more results, they can type in search terms, and Droid will search not only content on the Web, but also data residing on their phone — apps and contacts, for example.
Then there's Droid's Google Maps Navigation feature — now in beta — which provides turn-by-turn voice guidance as a free feature of Google Maps. Powered by Google, the Web app lets users give voice shortcuts such as simply saying, "Navigate to [some destination]," generating turn-by-turn directions along with Street View and satellite imagery.
Droid is the first device to offer Google Maps Navigation, Motorola and Verizon said.
'A Big Benefit'
Such capabilities are "a big benefit when in a vehicle," Chris Hazelton, research director for mobile and wireless with the 451 Group, told LinuxInsider.
"Instead of typing in a search, you speak one command and there's already a function for it, so it runs through several processes to give you your results," he explained.
Most other devices, by contrast, require that the user open up a specific application first — and "by that time you may have missed your exit," Hazelton added.
Such functionality is also particularly important as more states go hands-free, he noted. "There's a need to limit the time people spend looking at the screens of their smartphones, and one very good way of doing that is voice control," he said.
Support for Exchange
The Droid announcement came just one day after the release of support for Android 2.0 — also known as "Eclair" — in the platform's software development kit. Droid taps several features new to that version.
Another notable example is its support for Microsoft Exchange, which is included along with integrated Gmail.
"This device will be somewhat like the iPhone in that employees or prosumers can bring it to work easily, because as long as their company has Exchange, they can link directly to their work email," Hazelton noted.
Equal Shares by 2014
Whether the device can truly compete with the iPhone, of course, is the multimillion-dollar question.
"We expect a whole bunch of new Android phones to come out next year," Allen Nogee, principal analyst with In-Stat, told LinuxInsider. "Over time, by about 2014, I see the Android and Apple having about equal market share."
Yet the two platforms will account for those shares in very different ways, Nogee noted.
'Coming at a Good Time'
"Apple still focuses all its energy on one phone — maybe by then it will be two or three, but it won't be hundreds," he predicted.
Android, meanwhile, will be available in many, many different flavors and models, representing a variety of manufacturers.
Several competing mobile operating systems, however — such as RIM OS and Windows Mobile — are "kind of floundering and trying to find their way," Nogee noted.
As a result, "Android is coming at a good time," he concluded.
'Great Potential'
"When the iPhone was introduced, it supercharged the smartphone segment," telecom analyst Jeff Kagan told LinuxInsider. "Then we saw several other good competitors, and the race was on."
Now, with Google in the picture, "we are expecting another giant leap forward," Kagan noted. "Will it happen? That is the question we are all asking."
The first version was "good, but not great," he said. "Will the second version be great?"
In the last few years, "we have seen as many flops as successes," Kagan pointed out. "So we should wait to draw opinions until we can see and use this device."
There is "great potential," he added — "if they do a good job pulling all the pieces together."