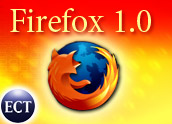 The Firefox juggernaut, which had been slowed recently by a spate of security concerns, has picked up steam again on the strength of a decision by IBM to endorse the alternative to Internet Explorer for its massive employee base.
Firefox, now the second most popular browser and by far the biggest threat to Microsoft's IE to materialize since the demise of Netscape, has seen better uptake among consumer users than businesses, who analysts say are often more reluctant to jump quickly to alternatives.
However, the Big Blue win changes that overnight. IBM said it had formally endorsed the use of the Mozilla Foundation's browser, which had already found its way onto the desktops of some 10 percent of IBM's 300,000-strong user base.
Security Update
IBM will make the software available for download from internal servers starting next week — eliminating the need for users to go online to download it themselves — and will start offering help desk support for the browser software.
The win is, if nothing else, a major PR boost for Firefox, one that comes just days after Mozilla acknowledged some of the more serious security flaws found in the browser to date by releasing an update.
Mozilla says some 50 million copies of Firefox have now been downloaded since it was made available last year. The browser was also the subject of a marketing campaign funded by donations to the foundation.
More recently, the foundation has found alternative ways to get the browser into the hands of users, striking deals with Internet service providers, for instance, to have the software bundled as part of their customers' service startup packages.
Those distribution channels have been seen as key to helping Firefox chip away at IE's still-dominant market share, since the IE browser is still most often the one that is loaded onto new computers that use the Windows operating system.
In March, WebSideStory said IE's market share fell below 90 percent for the first time since it began measuring browser use, but noted some slowdown in the growth of Firefox uptake at the same time. The firm pegs Firefox's market share at 8 percent, making it the clear No. 2, well ahead of Apple's Safari, which carries about 2 to 3 percent of the market.
Linux Push
Endorsement by businesses, especially one as high-profile as IBM, could reignite interest in Firefox, analysts said, especially given IE's lingering security concerns and the fact that Microsoft has not announced plans for a major upgrade to its browser until Longhorn hits, a debut that's still a year away.
Some analysts noted, however, that the move is less surprising given that IBM is making a huge push into the Linux arena, adopting open-source strategies both within its own enterprise and for its clients.
Firefox is clearly benefiting from the rise of Linux, and as enterprises migrate away from Windows-based systems to open-source architecture, they might take up a new browser along the way.
However, there are limitations and Firefox might already be bumping up against some of them, Gartner analyst David Mitchell Smith said.
Smith told LinuxInsider that many of the largest companies might have built or optimized their own custom programs to work best with IE when it was the only real choice on the market.
"The early adoption was driven by trends that made the growth rate all but impossible to sustain," he added. While consumers can change one computer's browser in a matter of moments, such a switch as a large corporation with hundreds or thousands of individual machines, as well as networks accessed by outside users — customers and suppliers, for instance — is a much more involved and potentially expensive undertaking.