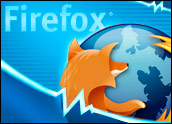 Firefox is gaining ground in Europe, according to a report released Monday by French Web analytics firm XiTi Monitor, and at least some of that progress seems to be coming at the expense of Internet Explorer.
Mozilla's Firefox accounted for nearly 28 percent of the browser market in Europe in the first week of July, XiTi reported, compared with 24 percent in March and only 21 percent a year ago. Microsoft's Internet Explorer, meanwhile, had dropped to 66.5 percent in early July, compared with 73 percent a year ago, XiTi reported.
W3Counter, by comparison, puts Firefox at just under 24 percent market share, with Internet Explorer at 66.3 percent at the end of June.
32 Countries
XiTi Monitor surveyed almost 96,000 sites in 32 European countries. After Internet Explorer and Firefox, Opera, Safari and Netscape were next in line in terms of early July market share, with 3.5 percent, 1.7 percent and 0.3 percent, respectively, the company reported.
In North America, Firefox accounts for a much smaller proportion of the market — just under 19 percent in early July, according to XiTi.
Slovenia, Finland, Slovakia, Hungary and Poland were the top five countries in terms of Firefox use, with market share levels of 47.9 percent, 45.4 percent, 40.4 percent, 39.7 percent and 39.6 percent, respectively. The biggest gains since March appeared in Ireland, where Firefox market share increased almost 14 percent over that time to 38.6 percent in early July, XiTi reported.
'Our Instinct Was Right'
Coincidentally, the news of Firefox's European gains comes in the same week as the fourth anniversary of the creation of the Mozilla Foundation, Tristan Nitot, president of Mozilla Europe, told LinuxInsider.
"Four years ago, many of us were laid off by AOL Time Warner, which no longer believed in the Mozilla project," Nitot said. "Firefox wasn't even launched yet, and we didn't have a business model. It was a dark moment for the Mozilla project."
Now, as Firefox increasingly gains ground, "it's interesting to see that our reality has gone further than our wildest dreams back then," Nitot added. "We're obviously very happy to see that our efforts are bearing fruit. We knew the world was waiting for a better browser, and our instinct was right."
Network Effects
"Mozilla is not doing any aggressive marketing in Europe to my knowledge, so there are probably several factors at work here," Greg Sterling, founder of Sterling Market Intelligence, told LinuxInsider.
First, the viral adoption of any product can create a network effect, whereby rapidly increasing adoption tends to magnify the viral effect, leading to further accelerated adoption, he said.
Second, Firefox's own strength as an innovative product are also likely feeding its growth in market share, Sterling said, particularly since Internet Explorer has subsequently adopted some Firefox features, such as RSS feeds.
Antitrust Fears
Finally, anti-Microsoft sentiment in Europe could be another factor behind the data, Sterling added.
"Microsoft has been particularly hard-hit in Europe by regulatory entities — much more aggressively than in the United States," he explained. "It could be that the publicity around Microsoft's perceived anticompetitive practices are fueling this trend in Europe."
Yet another factor behind the data could be the platforms in use in various European countries, Rob Enderle, president and principal analyst with Enderle Group, told LinuxInsider.
"This shows Firefox has a lot of strength, but it may also reflect the use of older or pirated versions of Windows," he noted.
Microsoft Fears
"It's coincidental that many areas using Firefox also rank high on the use of pirated versions of Windows," Enderle said.
Since Microsoft changed its update method, there is a common belief among users that even if they can get updates, Microsoft may also be able to track down their pirated versions, he explained.
Nevertheless, platforms and perceptions notwithstanding, news of Firefox's gains and Internet Explorer's losses should be worrisome for Microsoft, Enderle added: "Any time you start dropping market share, it's certainly a reason for concern."