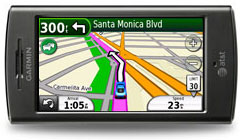 Garmin's Nuvifone G60
After nearly two years of anticipation, Garmin and AT&T announced Tuesday that the long-awaited Garmin Nuvifone G60 will become available in the United States starting Oct. 4.
Billed as "the navigation phone" for its integration of phone capabilities with GPS functionality, the Linux-based device will be sold online and in AT&T stores for US$299, after a $100 mail-in rebate. A two-year service agreement with AT&T is required.
"The Nuvifone weaves location into nearly every facet of its functionality, making it ideal for people who depend on location to navigate everyday life," said Cliff Pemble, Garmin's president and COO.
The Garmin interface makes it easy to navigate to a meeting directly from calendar or contact pages, he said, and "geotagging an email or photograph with a location stamp is intuitive, useful and fun."
Windshield Mount
The Nuvifone G60 offers the same core features as a high-end Garmin Nuvi device and comes preloaded with maps and millions of points of interest across North America. With a dashboard and windshield mount, the device can easily be mounted in a car, or it can be detached for portable navigational use.
Because the maps reside on the device, users always have access to navigation capabilities. They can receive turn-by-turn, voice-prompted directions that speak street names to millions of destinations, and if they miss a turn along the way, the Nuvifone will automatically recalculate their route and get them back on track.
The Nuvifone includes a real GPS receiver with Garmin's HotFix technology and assisted GPS.
'Where Am I?'
Also part of the Nuvifone is a "Where am I?" feature that lets users know their exact latitude and longitude coordinates, nearest address, intersection, hospital, police station and gas station with one touch of the screen.
For users apt to forget where they parked their car, meanwhile, the Nuvifone automatically marks the position in which it was last removed from the windshield mount.
Then there are the more traditional-style smartphone features, such as a quad-band GSM phone with 3.5G data connectivity, a Webkit-based HTML browser, Wifi, stereo Bluetooth, a 3-megapixel camera with autofocus, and a touchscreen virtual keyboard that's customizable to either QWERTY or A to Z format.
Location, Location, Location
Even in the Nuvifone's smartphone features, however, navigation is a strong element.
A location link parses addresses on the Web with latitude and longitude information, for example, enabling users to easily navigate to addresses they discover online by simply touching the address.
The device's camera, meanwhile, automatically geotags images with an exact latitude and longitude reference to where the image was taken; users can then save the image so they can navigate back to the location, or email the geotagged image to others.
Built on Mobil Linux
The Nuvifone G60's operating system is a proprietary build based on "a variation of Mobil Linux," Garmin spokesperson Jessica Myers told LinuxInsider.
Though the device's platform is a closed one, Garmin is also working on an Android phone that's due to become available next year, she added.
That the Nuvifone is based on a proprietary operating system shouldn't limit it, however, Ramon Llamas, a senior research analyst with IDC Research, told LinuxInsider.
"Garmin has gone through a lot to highlight the location aspect," Llamas explained. "This one's all about location, and it has a lot going on to support that."
Shifting the Focus
In many ways, the device is reminiscent of the Palm story, wireless and telecom analyst Jeff Kagan suggested.
"In the 1990s, Palm was a hot electronic organizer; then it started offering a phone feature," he explained. "Now, when we think of Palm devices we think of a smartphone."
The same may happen with Garmin, Kagan told LinuxInsider. "Garmin started as a navigation device, and now it is adding a phone. The question is, is there a market for such devices?"
'One of the Hot Features'
Navigation has been "one of the hot features" for phones in the wireless world, he noted — "now Garmin wants to turn it around and add a phone to its navigation.
"It works one way; will it also work the other way? This is a simple question, but we won't know until we see," he concluded. "It all depends on how well the product works, what it does and how much it costs. We'll watch this space closely."
In short, "this could be a solid idea if it is delivered well," he said. "Let's see if they can make it happen."