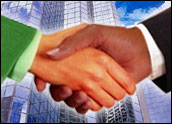 The LiMo Foundation and the GNOME Foundation on Monday announced that they have begun working together as partners to further open source innovation.
Starting immediately, LiMo Foundation will become a member of the GNOME Foundation's advisory board and the GNOME Foundation will become an industry liaison partner for the LiMo Foundation.
The partnership stems from the use of several components from the GNOME Mobile platform in releases 2 and 3 of the LiMo Platform, the groups said.
'Quality and Freedom'
"The objective of GNOME Mobile is to provide a platform for the next stage of client computing," said Stormy Peters, the GNOME Foundation's executive director. "We are committed to bringing the quality and freedom of GNOME to users on mobile platforms."
The LiMo Platform is a Linux-based mobile device platform developed collaboratively by a group of mobile industry leaders using open source technologies including the Glib, GTK+, D-Bus, GStreamer and BlueZ components of the GNOME Mobile project.
In 2008, the LiMo Foundation merged with the Linux Phone Standards Forum, or LiPS, to develop shared implementation practices for an open source mobile platform.
LiMo members now include Motorola, NEC, NTT DoCoMo, LG, Orange, Panasonic Mobile Communications, Samsung Electronics, Vodafone, Verizon Wireless and Telefonica.
'They Need More Developers'
"LiMo is another smartphone operating system in a market that's very crowded right now," Chris Hazelton, research director for mobile and wireless with the 451 Group, told LinuxInsider.
That market is going to "get less crowded," Hazelton predicted, and "LiMo has the backing of many very large carriers and device vendors."
Still, "the real challenge for LiMo is to get not only onto more devices but to get into the hands of more users," he explained.
Most notably, "they need more developers," Hazelton said.
'Looking for More of a Mobile Play'
Right now there aren't many developers for LiMo, he explained — "there's no huge app store ecosystem like for Android or iPhone."
As a result, there aren't as many apps to attract users to the platform.
So, the partnership is intended "to bring in another consortium of developers to potentially create apps for LiMo," Hazelton added.
GNOME, meanwhile, "is looking for more of a mobile play, because their mobile platform is likely not getting the reach they want," he pointed out.
'They Don't Have Its Full Attention'
Of course, device vendor support is another critical ingredient, he noted.
LiMo does have a partnership with Samsung, but it's not an exclusive one, Hazelton pointed out — "they don't have its full attention."