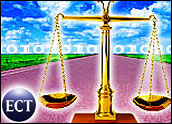 Despite a press release by the defendant indicating its desire for a quick settlement, the licensing beef between BusyBox and Monsoon Multimedia is in fact still alive and well.
No agreement has yet been reached, said Daniel B. Ravicher, the attorney who is prosecuting the Software Freedom Law Center's case on behalf of two BusyBox plaintiffs against Monsoon.
"I can confirm that we are discussing settlement, but — contrary to what many in the press seem to believe — no agreement has been reached," said Ravicher.
On Monday, Monsoon Multimedia issued a statement that the company intends to fully comply with all open source software license requirements. Monsoon will make modified BusyBox source code publicly available on its Web site in the coming weeks.
Where's the Code
BusyBox's beef is that the GNU General Public License version 2 (GPLv2) requires that other parties engaged in either copying, modifying, or redistributing its software must stick to its GPL licensing rules, yet Monsoon is offering products containing BusyBox code without providing recipients with access to the source code.
BusyBox is promoted as the "Swiss Army knife" of embedded Linux, and its programs have been used in numerous embedded Linux-based devices from well-known open source vendors such as developer tool provider Trolltech.
GPL as Exhibit A
The complaint filed Sept. 20 presents as "Exhibit A" the GNU GPLv2, dated 1991.
On Monday, Monsoon said it would post the code on its Web site.
"Since we intend to and always intended to comply with all open source software license requirements, we are confident that the matter will be quickly resolved," said Graham Radstone, Monsoon's chairman and chief operating officer.
Not So Fast
"Note that simply coming into compliance now is not sufficient to settle the matter, because that would mean anyone can violate the license until caught, because the only punishment would be to come into compliance," Ravicher said.
He declined to discuss details about what actions the clients additionally seek, however. "Hopefully we'll be able to shed light on that if/when we do reach an agreement," he stated.